Check out our GPS vehicle tracking demo to see how AutoAlert can help you see where you're vehicles and engineers are, respond proactively to customer queries and reduce your costs through reports such as working times, driving times, mileage, stationary times etc.
Check out our quick demo video which gives a brief introduction to our web and mobile based GPS vehicle tracking application.
https://youtu.be/E8XpigUgPjw&rel=0&w=560&h=400&showinfo=0&theme=light&enablejsapi=1
Find out more about AutoAlert GPS Vehicle Tracking or Sign up to AutoAlert.
With AutoAlert you have a number of options to determine how your GPS devices are shown on the radar screen. You can then devices automatically center on the map when the icon is clicked or if you prefer, you can leave the icon where it is.
To turn device centering on or off, click the devices icon and then select Turn centering on or off (depending on what option is currently selected).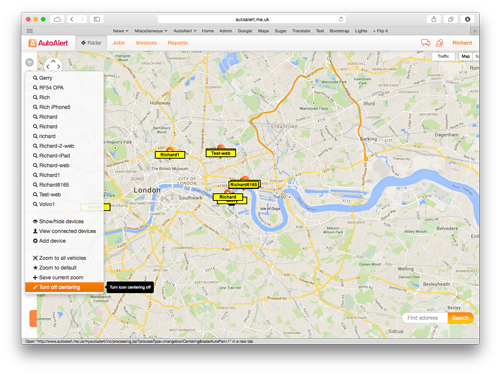 If device centering is switched off, and you click on a device which is near the border o your screen, then you can still easily center the icon by clicking on the center icon () from the device pop up.
Clicking on a device icon from the radar screen shows a device pop up which contains key information, short cuts to additional functions and now a link to the latest activity report and tracks report.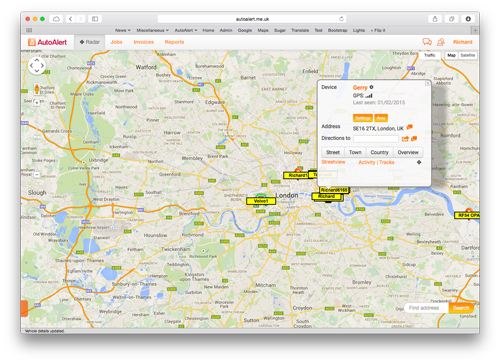 The device pop up contains the following information
Device name
You can see the device name which appears on the icons on the radar screen. You can change the name by clicking on the device name and updating it. See more information on changing your device names.
Device vitals
Depending on what type of GPS device you have, you can see the power the device is receiving and the strength of the GPS signal.

Battery charge


Strong GPS signal


Weak GPS signal
Note: The time the status was received is shown under the icons. See more tips and advice about diagnosing faults with GPS Devices.
Device settings
Clicking the settings button allows you to easily show or hide the device from the radar screen. Find out more about showing or hiding your devices.
You can change the name of the device, allocate the device to an employee, change the device icon and update the telephone number where device alerts are sent.
Areas
Clicking the area button creates a new geofence area around the current location of the vehicle. This is ideal if you want to be alerted when your vehicle or engineers leaves its current position.
Find out more about how to create a geofence area around your vehicle and more information about Virtual Areas.
Tracking
If you have a portable GPS device, then you can also set tracking from the radar screen. Click the tracking button and set how long your device sends its location, turn off tracking or track for a journey.
Address and Directions
The address is shown for your vehicle. If we don't have the address then the latitude and longitude is shown.
Clicking on the messages icon (

) opens the messaging dialogue prepopulated with a link to google maps for that direction. You can then send the location to a customer or colleague.
You can also get directions from the current location of the vehicle to a new address by entering the address in the address field. You can then view the directions in google map by clicking on the More icon (

) or you can send the directions by SMS.
Zooming in and Out
You can quickly zoom in and out to street level or out to country view.
Streetview
Click the street view button to view an image of the location of your vehicle.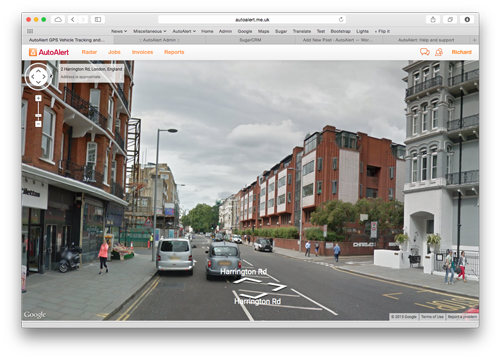 Activity
Clicking Activity takes you to today's activity report for the that vehicle. See more information about using the activity report.
If there is no activity available for that day then you change the time period by clicking Report Options and change the from and to dates.
Tracks
Clicking Tracks takes you to today's tracks report for that vehicle.
If there are no tracks available for that day then you change the time period by clicking Report Options and change the from and to dates.
Center Pop up
If you do not have centering enabled, you can click the () icon to center your device on the screen. See more about centering your devices on the map.
Large fleets have generally been most able to afford the cost of vehicle tracking and turn it into an overall cost advantage.
Medium and small sized, fleets, however, could not always make that choice and have it be economical. The high cost of equipment, infrastructure, and monthly fees makes traditional vehicle tracking a difficult proposition for all but the largest of fleets.
The basic benefits of vehicle tracking
Before you can determine if vehicle tracking is worth the cost for your own fleet operations, let's first touch on the basic benefits that can be realized with a good system.
Less driver downtime – Knowing the location of every vehicle and driver means that emergent work and needs can be routed to available personnel quickly and more easily. This prevents drivers from spending extended periods of time waiting for dispatch or direction.
Better customer service – You are better able to serve your customers promptly and efficiently when vehicle locations can be determined quickly and easily. Thus when a new customer call or request comes in the appropriate vehicle can be dispatched right away.
Field replenishment – When vehicles in the field run low on supplies or other necessary items, a good tracking system allows delivery and restocking out in the field instead of requiring the vehicle to return to base for more materials.
Effective supervision – Fleet managers and supervisors will almost always say that they can do their jobs most effectively when they are out in the field with their drivers, rather than in the office or at a desk. Good vehicle tracking allows managers and supervisors to spend more time out in the field where they are most needed.
Typical costs of vehicle tracking systems
The typical costs associated with a traditional vehicle tracking system include the vehicle units, installation,
monthly subscription fees and other hidden fees.
The newest innovation in vehicle tracking, however, is much less expensive and brings this potentially beneficial technology within reach of even the smallest of fleets.
This technology uses smartphones or portable gps tracking devices which don't require installation and can be monitored using a web-based interface or smartphone application allowing fleet operators to monitor and track their vehicles simply and efficiently without a large upfront outlay.
Anybody considering a vehicle tracking system would be well advised to research both traditional and new options, and do a direct comparison of costs, features and benefits. In most cases, it is likely that the newer technology will end up being the most cost effective solution.
Find out more about AutoAlert GPS Vehicle Tracking.
Stop worrying about the status of your jobs
Let your vehicles alert you when they've arrived
Stop filling out lots of paperwork
Communicate easily with your employees
Update your jobs on site
Remind your customers you'll be on site tomorrow
Reduce the time spent on admin
Provide proof of delivery to your customers
See where all your vehicles have been
Find out more about
Sometimes you're vehicle might show as stationary even though you know that you're vehicle is actually moving.
This could be one of three potential issues.
Your unit doesn't have a GPS signal
Your unit cannot communicate over the mobile network
A wiring issue
Checking which of these is the likely reason for your issue is easy. Simply click on the radar screen when logged into your account and click on your vehicle.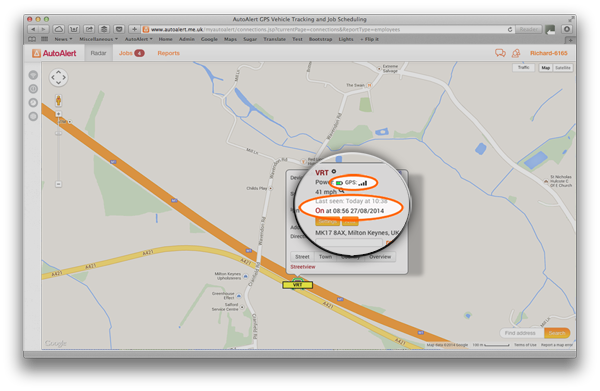 The pop up will show the status of the GPS, the time the GPS unit was last seen and whether the ignition is on or not.
Weak GPS Signal
If the GPS signal is weak, then the signal could be blocked due to a number of factors including the current position of your vehicle relative to tall buildings, hills or dense trees. It could also be due to environmental conditions.
In each case, and especially if the vehicle is moving around, the unit should eventually be able to reacquire the signal and start updating its correct location.
Please note, if the signal is lost due to environmental conditions and the vehicle has parked. Once the conditions improve, the unit will get its correct location but won't update its position until the ignition is switched on again.
Poor mobile reception
If the vehicle is moving but the last seen time is relatively old, This could be due to poor network reception in the area.
The unit will store its location and once the reception has improved will start transmitting its locations again.
Wiring issues
Failing the above, then it may be worth checking the wiring as the unit may not be getting power or seeing that the ignition is being switched on or off.
For more information see
AutoAlert features in Google Campus Spotlight newsletter, July 2014.
AutoAlert's Director, Richard Harris was recently featured in an article for Google Campus Spotlight. An email newsletter which Google Campus sends out to thousands of companies of various shapes and sizes who use Google Campus as a place to work, a place to meet and a place to learn.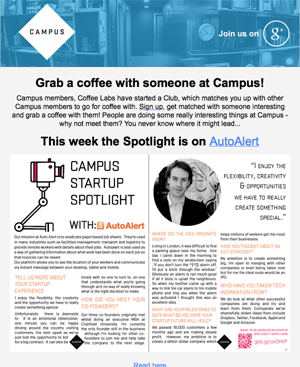 Richard discussed the history behind AutoAlert, how we started with an innovative way to connect your car to your mobile telephone and get alerts if your car alarm is activated. And how we went from these humble beginnings to a company offering simple yet powerful GPS Tracking software to over 18,000 haulage, transport and logistics and security companies.
Richard also talked about the latest iteration of AutoAlert's award-winning software – Job Management and Instant messaging which helps companies improve their own business, cut paperwork and better manage their jobs through our Jobs.
Find out more about our simple solutions and how they can benefit your business.
The European Satellite Navigation Competition was established in 2004, and has rewarded the best services, products, and business cases that use satellite navigation in everyday life.
AutoAlert uses satellites to provide location information to our customers so they can better manage their vehicles and better manage their jobs.
Following is our response to the award
Summary
AutoAlert mission is to eradicate paper based job sheets for remote workers.
Using paper based job sheets is labour intensive with lots of duplication, especially as more subcontractors get involved in the job. In addition, no one knows what is happening with each job until the job sheet is returned. This leads to stress, anxiety and lots of chasing. It often also leads to delayed or inaccurate invoices as job sheets are returned with difficult to read or missing information.
AutoAlert has a massive opportunity to create a social network for blue-collar workers which eradicates the need for paper based job sheets whilst improving the performance and efficiency of companies operating in complex supply chains.
We are a small company, however we have already achieved big things with almost 20,000 customers on our platform.
With AutoAlert jobs we believe we can acquire many more customers due to the vitality of our platform and huge value in our customers connecting to their own customers and subcontractors and then being able to share the status of their jobs and communicate easily via a desktop, tablet or mobile telephone.
A description of AutoAlert's solution
Our mission aim is to eradicate paper based job sheets.
Millions of job sheets are created each day for remote workers. They give information about what jobs need to be done and are used to get information back about what work was done for each job.
Unfortunately, this is a very labour intensive process with lots of duplication, especially as more subcontractors get involved in the process. In addition, no one knows what is happening with the job until the job sheet is returned. This leads to stress, anxiety and lots of chasing. Invoices may also be disputed or delayed when information is missing, difficult to read or inaccurate.
AutoAlert jobs resolves these problems by creating a "social network for blue-collar workers" which allows companies to connect to each other, share jobs and then update those jobs on a mobile telephone while the job is being done rather than at the end of the day or week.
Prior art in this field is provided by companies such as Oracle and SAP who offer complex Enterprise resource planning (ERP) systems to large organisations. More recently, companies such as GeoOp and vWorkApp have entered the market with more simple work tracking solutions using smart phones.
These solutions work well for individual companies but fall down when more than one company is involved in the job as existing applications do not allow companies to connect to each other and share the status of their jobs. AutoAlert is a connected system and works right the way along the supply chain. This means that you can see the status of your jobs which are being completed not just by your own engineers but also the jobs which are being done by your subcontractors.
The key components to the system is AutoAlert's cloud based infrastructure combined with mobile phones and/or GPS tracking devices. Utilising the location of the mobile phone or GPS tracking device enables the key aspects of the job to be updated automatically such as when an engineer is on site. it also helps with health and safety concerns especially when engineers are working on their own and in potential dangerous conditions.
AutoAlert's use of satellite tracking
AutoAlert uses GPS, CellId and WiFi Location to check the location of the engineers, create location-based alerts and update the status of the job when an engineer arrives or leaves the job site.
We prefer CellId to derive location as it is the most readily available source of location and is available at the lowest cost in terms of power. It also provides adequate accuracy for our needs.
GPS and WiFi are also used to improve on the accuracy of the location. GPS is pretty ubiquitous and is available in most smartphones and a wide choice of tracking devices. GPS chips are cheap, readily available and well-tested.
We are keen to use other location technologies including Galileo as this will likely improve accuracy and reliability. However, we are mostly reliant on their adoption by mobile telephone handset manufacturers.
Target market
Our target market is growing companies with remote workers. This could include electricians, plumbers, transport and logistics companies and fire and security companies.
There are two target markets for AutoAlert Jobs. The first is small but ambitious companies. Bigger than one man bands but without the resources including time and money to invest in more complex systems.
In the UK there are almost 35,000 electrician companies with a size of between 10 and 100 employees. There is a similar number of plumbing companies. There are almost 60,000 transport and logistics companies.
They can benefit by being able to take on more work, offering a more professional service to their customers and by being able to check the status of their jobs.
Competitors to AutoAlert include GeoOp and vWorkApp who offer job scheduling software on smartphones. However, their applications only work internally which means that companies within this market cannot connect to their own customers and subcontractors and share the status of their jobs with their customers and subcontractors without logging in and out of different systems or different accounts, duplication and extra work.
At the other end of the spectrum is large national and global companies who have a number of sites and use many subcontractors. Facilities managers at these companies are a particular target as they have a number of small jobs which are sent to their own staff or to subcontractors. They can benefit by being able to check the status of their own jobs and being able to check the status and performance of jobs done by subcontractors.
Competitors include ERP systems from the likes of Oracle and SAP. However, again these are focused on individual companies alone, they are also expensive and complex which means these companies cannot force their smaller subcontractors to use the system to provide the status of their jobs.
The business case
Using paper based job sheets is expensive in terms of administration, duplication, chasing of employees and subcontractors and disputes over invoices. Our customers estimate the cost for each job done using a paper based job sheet is £40 per job. This is about 10% of the value of a typically job.
By using AutoAlert, we can eradicate the majority of this cost as there is no more duplication, information is readily available to all interested parties, therefore less chasing of employees and as invoices can be raised automatically and as soon as the job is completed, this means less disputes and quicker payment of invoices.
AutoAlert is available on a subscription basis with three pricing plans.
A free tier is available for customers who want to update their customers jobs and communicate with their engineer. Our research has shown that this is important as larger companies want their subcontractors to use their system but don't feel that they can impose extra costs on their subcontractors. If the subcontractor does want to use the platform to create their own jobs for their employees or subcontractors then they can upgrade their subscriptions or by a bundle of job credits for about one euro per job.
The next tier allows customers to send, receive and update their jobs as well as communicate with their staff
The last tier includes a GPS tracking device which can be used to provide reports about vehicle movements, working times, driving times etc.
Bespoke solutions are available for large companies depending on their specific requirements.
Large companies spend a lot of time and money taking on subcontractors. However, once a contract has been signed, it is very difficult to check the performance of these subcontractors as they have no visibility over the job until it is completed or an invoice is received.
Even if the company has their own job scheduling system, they can watch jobs done by their own employees but cannot check those jobs done by subcontractors.
Our sales so far
AutoAlert has over 18,000 customers using its GPS tracking platform. However, growth is escalating as our customers see the value in connecting to their own customers and suppliers and sharing the status of their jobs.
As more customers start using the jobs functionality of AutoAlert then the potential for growth in customer numbers is huge
Find out more about AutoAlert GPS Tracking and AutoAlert Jobs and how they can benefit your business.
This is a quick guide to getting started with our AutoAlert Monitor Application on your iPhone or iPad:
If you haven't already downloaded the application, you can get it from the iTunes store.
What is AutoAlert Monitor anyway?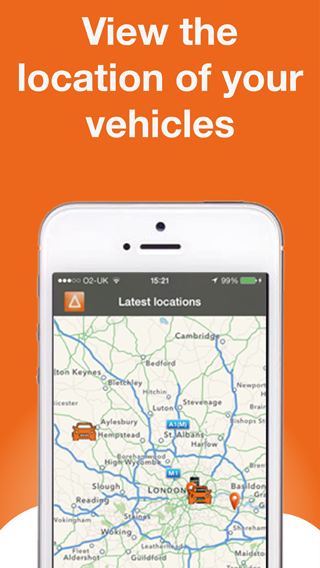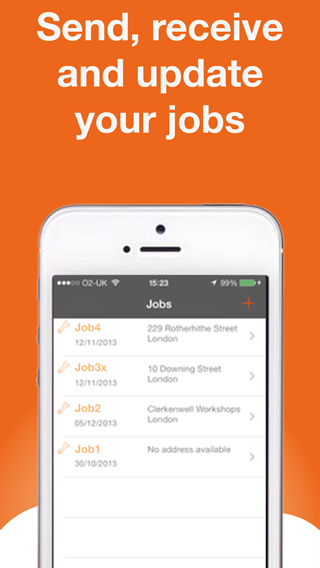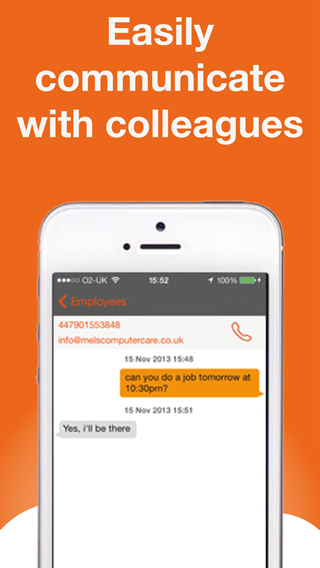 AutoAlert Monitor is a simple application for the iPhone and iPad which provides all the benefits of AutoAlert but in the palm of your hand.
With AutoAlert Monitor you can:
See the location of all your devices
Send your own location
Send alerts
Add jobs
Allocate jobs to your colleagues
View and update your jobs
Message your colleagues
How is it useful?
AutoAlert provides transparency over your business.
No more ringing around, trying to find out where your colleagues are or whether a job has been done. You can also quickly and easily communicate with your colleagues.
Getting started with AutoAlert Monitor
Download the iOS Monitor application from the Apple iTunes store.
Enter your details and either create a new account or join an existing account if your company is already using AutoAlert
If you have joined an account, then your device locations, any jobs and contacts will be immediately available
Start adding jobs, employees and other connections by clicking on the + icon in the radar, jobs or messaging screens
Once you have connections, you can start allocating jobs and messaging from the app
Find out more about:
With the iPhone and iPad, there are a whole host of new ways to interact with your mobile phone and make entering jobs, viewing your vehicles or communicating with your colleagues easier.
Following are just some of the new ways you can interact with our iOS Monitor application.
Rotating two fingers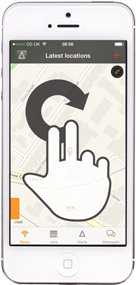 Rotating your fingers on the screen rotates the map.
Sliding two fingers up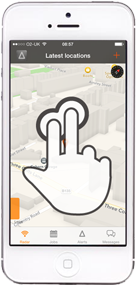 Slide two fingers up on the radar screen to change the angle at which you can view your vehicles on the map. This provides for a more 3D view and when zoomed in can show your vehicles among buildings.
Pinch
When you're zoomed in, then pinching or expanding two fingers on the map causes it to zoom or out.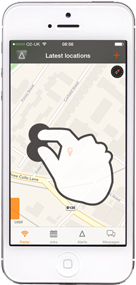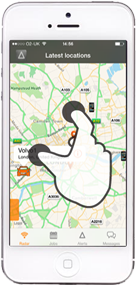 Double click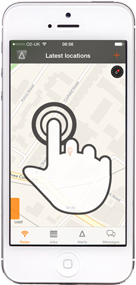 Double click on the map to zoom in.
Long press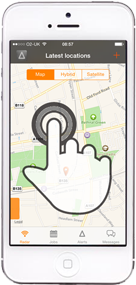 When you're in the radar screen on the iPhone, pressing and holding on the map will cause the map type options to appear. The options are displayed for a few seconds and allow you to easily switch between standard map view, hybrid or satellite view. Particular useful if you want to see a photo quality image of where your vehicle is parked.
Slide in from the left
Sliding in from the left on the orange tab on the radar screen shows you a list of all your vehicles. You can then click on each one to find it on the map, then zoom in or out. You can also refresh the map, and get further information and settings. Sliding back from right to left closes the list.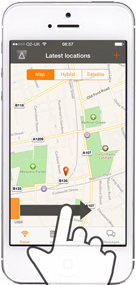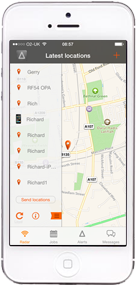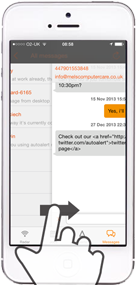 You can also slide in from the left on other screens such as the jobs screen and messaging screen to bring back the previous screen.
Find out more about: