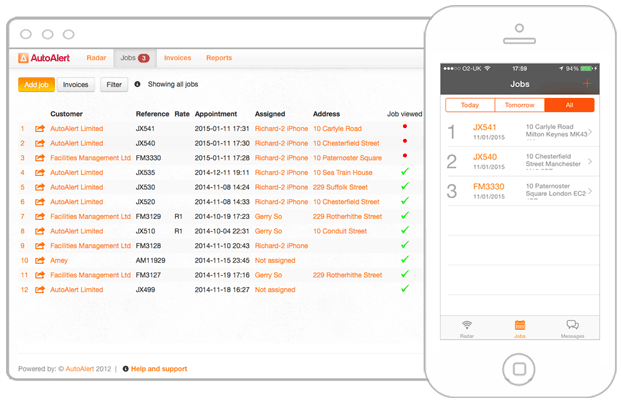 We released a big update to our job management software over the weekend of 6th/7th June.
The aim was to improve the performance of our software and make your data more secure. We added a new server with much more power and also added encryption to the logged in part of the site.
To make sure the page is encrypted, look out for the padlock in your browser bar.

Encryption was already included on our iPhone and iPhone monitor apps so this update completes the circle and brings enhanced encryption to all aspects of our software.
At the same time, Apple also released v9.1 of our Monitor app. See a full list of enhancements and improvements to our iPhone and iPad Monitor app, updated as new versions of our app gets released.
Any suggestions?
We're always keen to hear how you find AutoAlert, any features or suggestions we can add to make your experience even more "magical'.
Get in touch now.
Find out more about all the features of are unique job management application.
Check out Okappy's job management demo to see how Okappy's job sheet software can help your business you get rid of paper job sheets, see what's going on with your jobs and make sure invoices are sent on time and with the correct information.
Check out our quick demo video which gives a brief introduction to our web and mobile based job management application.
https://youtu.be/Tle1pjhU9H0&rel=0&w=560&h=400&showinfo=0&theme=light&enablejsapi=1
Find out more about Okappy Job Sheet Software or Sign up to Okappy Job Management.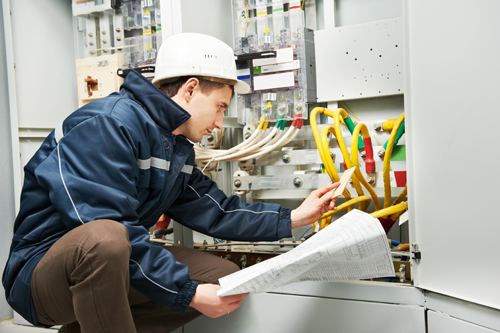 We're continually speaking to our customers, finding out what works for them and what doesn't.
With the release of our new job management software we wanted to understand what drove our customers to invest in our job management software.
Following is the top 5 reasons our customers gave for wanting to automate their job management process and move away from paper job sheets or cards.
1) Missing, late or incorrect invoices
This is one of the biggest drivers for our customers. With lots of paperwork it's too easy to forget about an invoice.
With handwritten job sheets, if information is ineligible it may lead to disputes or complaints and if you're waiting for your job sheets to come back from your guys, then this can lead to delays in getting your invoices sent out and ultimately paid.
This is often a direct cost to the bottom line and one of the first things that can be eradicated by moving over to a paperless job sheet system.
2) Not enough time in the day
In the past, customers would often spend more time doing paperwork than running their business.
Several hours each week would be set aside just for paperwork. Whether that's writing out job sheets and given them to your guys, whether its your guys having to fill out their job sheets at the end of the week or month or whether you're then having to collate the information and input it into your accounting package, it all takes up valuable time.
This is time which could be better used on other things, whether that's building the business, training for your guys or even freeing up more time to spend on the golf course!
3) Forgotten information
We were finding that a lot of guys would fill in all their job sheets in one go, typically at the end of the week or month. The problem with this is that information is not fresh and is often forgotten. If there's a dispute later on, there is no backup available which often led to invoices being cancelled or reduced.
4) Better employee relations
Having to continually chase employees for job sheets is not only time-consuming and stressful for you but it can cause tension in the team.
By automating the process, everyone knows what is happening in real time. There's no more arguments and a lot less anxiety trying to find out what is going on with each job.
5) Better customer relations
If the customer has to ring you to find out what is happening with their jobs, if you don't have the information to hand then this can also lead to poor customer service and disputes.
We often saw customers having disputes with their own customers as they thought an engineer was on site for less time than they billed for.
Find more about Okappy job management software and how it could benefit your business.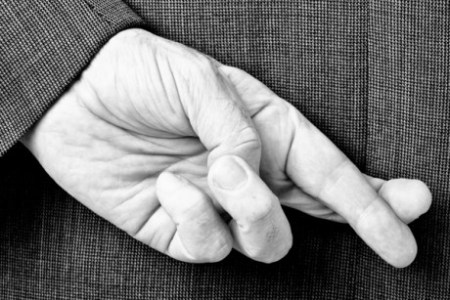 More than half of British workers lie to their employers about the amount of overtime they've completed in order to pocket more cash, according to money saving site VoucherCodesPro.co.uk.
Almost a third lie about their expenses (so its not just politicians) and almost third lie about mileage.
The top ten lies Brits tell their employers are:
Overtime – 51 per cent
Reason for absence (e.g. fake illness) – 41 per cent
Expenses – 31 per cent
Mileage – 30 per cent
Qualifications/Experience – 28 per cent
Work productivity levels – 25 per cent
Business Meetings – 13 per cent
Tools & Equipment – 11 per cent
Being a parent – 9 per cent
Marital status – 6 per cent
When asked why they lie to their employer – 21 per cent said they lied because they could, while 14 per cent said it was because they dislike their boss. More than three quarters, 78 per cent, said they had never been caught, while the remaining 22 per cent had been found out.
Probably worth thinking about job management software!!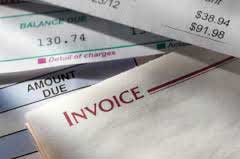 When it comes to small businesses and freelancers, customers tend to get away with delayed payment and sometimes even with non-payment. Whether said customers are individuals receiving your services in their residences or big companies hiring you to work on their commercial premises, delayed payment is a fact of life for many SMEs.
Customers often do not care or even understand that small businesses work with a very small margin, and hence need to have their payments cleared within the stipulated period. This is borne out by the fact that two-thirds of the monthly expenses of SMEs is spent on going after debtors and trying to collect payments.
Data from BACs Payment Schemes Limited show that more than £8 billion is spent per year for this purpose, and around one-fifth of company directors end up having to take a salary cut to balance this cost.
SMEs are by definition small companies operating on very thin margins. The highest burden of non-payment such a company can take before collapsing would be around £50,000, while many companies cannot handle outstanding debt of more than £20,000. When the average rate of late payments is about £32,000, you can see why this is a huge problem and can have a severe impact on the economy.
But just because customers are accustomed to pay late, it does not mean that you cannot do something about it. Though this is a risk most business owners take and account for, it is important to have some rules in place to minimise late payments and to make sure that you know what steps to take if there is a payment problem.
Inform yourself
There are laws to protect small businesses from going under because of delayed payments. It is important for you to inform yourself about these laws and seek ways to cut the impact of delayed payments. You can charge interest and claim debt recovery costs from the customer. All these laws are for your convenience and protection, so know them and use them to your best advantage.
Automated payments
Encourage your customers to set up direct debit with your company. This should prevent any problem of delayed payment from arising at all. Once the work is done, the payment will be made. Electronic payment also ensures that the funds are transferred right away and you will receive them far sooner.
Automate your process
You should also look to automating your processes. Job management software allows you to create your invoices from your job as soon as the job is completed, you can raise your invoices directly or export them to an accounting package. This helps make sure your invoices go out straight away and enables you to track them so you know when they have been paid or when they are being delayed.
Ask for an advance
If you are undertaking a task that would cost more than a nominal amount, insist on an advance. You could charge 25% or even 50% of the total amount. This should help in taking care of your immediate expenses, and you are also confident in the knowledge that at least part of the payment is already done.
Rely on credit checks
Many companies do run on credit. But before giving credit to your customers, make sure you know how credit-worthy they are. Check out their credit reports from the Companies House or from a reference agency. Based on this, you can set a credit limit, both in amount and in time, for your customers. This will put you in control of outstanding payments and you can decide when to cut the credit.
Send reminders
It is important to show your customer that you take your payments seriously. Send the reminders just before the payment is due. In cases of delayed payment, do not hesitate to contact your customers and politely demand that your account be settled right away. You can remind them that you will charge interest on late payments. For these reminders, a phone call is always better than an email or a letter.
Networking
Keep on good terms with your customers. If your customer is a company, it is a good idea to network with people in the accounts department. Such networking will make sure that in times of difficulty, your payment will be the first to get cleared.
Reward prompt payers
Try to offer incentives for those who pay on time without any fuss. If your customers know that prompt payment comes with its own rewards, they would be more inclined to make the payment right away. This kind of positive reinforcement works wonders and helps in solving the problem of delayed payments.
Find out more about Okappy job management software and how it can help ensure you get paid on time.
You can view all your invoices raised over a time period from the reports screen or invoices raised for a particular customer over a time period.
View Report Showing Invoices Raised Over a Particular Time Period
To view all your reports over a time period, go to
Reports
Scroll down to the Other section, and
Click invoices raised, or received
You can then select the time period you want to view reports and click Generate report.
All invoices raised, or received over that time period will be shown. You can click on the ID of the report to show the invoice.
View Report Showing Invoices Raised Over a Time Period for a Particular Customer
To view all your reports over a time period for a particular customer, go to
Reports
Scroll down to the Other section, and
Click invoices for customer
Select the time period you want to view the reports for, select the customer and click Generate report.
All invoices raised for your customer over that time period will be shown. You can click on the ID of the report to show the invoice.
You can also quickly get the all your invoices for a customer if you're in your connections page. Select Customers, scroll down the relevant customer and click Invoices.
This will load invoices report showing all the invoices you have raised for that customer over the year.
Find Out More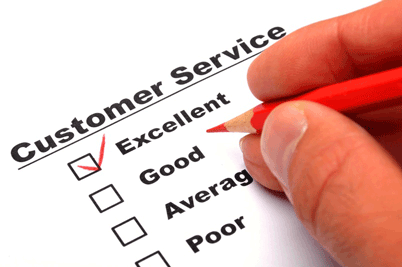 An electrician often needs to be available for their customers immediately, especially in cases of emergency while still providing high levels of service. To achieve this, especially its worth knowing how you've performed.
Providing a platform for customers to send in their comments and suggestions, as well any grievances can lead to increased trust as well as highlighting areas for improvement. There are many ways to get customer feedback, following are some of our suggestions.
Emails to your customers
Sending emails to the customers after performing a task for them can be helpful to find out how satisfied the customer is with the service. To encourage the customers to respond to these emails, a small incentives could be provided such as a discount on the next job done.
Questionnaires
Questionnaires are an effective method of gauging customer satisfaction with your job management. They are especially helpful if added to your website. Then the data can be easily compiled and analysed with the help of analytical tools.
You could also use dedicated services such as SurveyMonkey or Google Consumer Surveys. These can be set up quickly and at little or no cost.
Comment boxes
While electricians don't have visiting customers and hence lose out on setting up comment boxes in the workplace, this method can still be applied online. Leave a space on the website for customers to leave whatever comments they wish. This can only help in gaining further knowledge about customer perception of the company.
Social media
No business can work these days without an online presence such as on Facebook and Twitter. You can set up accounts on these social media sites and interact directly with your customers. This is helpful in communicating with the customers where small doubts or questions can be resolved within a matter of minutes without much effort.
Focus groups
No matter the size of your electrical contracting business, you could always invite a few regular customers to join you for a chat over a cup of coffee. This is a good opportunity to inform the favoured customers about new products or services you may be offering. It also works well for obtaining customer feedback on the general service level of the electrician and the company.
Job Management Software
Job management applications like Okappy Job Sheets allow you to set up check sheets which could include a customer feedback form at the end of each job. By ensuring a questionnaire is provided automatically after each job, you can build the collecting of customer feedback into your standard business processes.
Find out more about Okappy's job sheet software.
Round up
Obtaining customer feedback is not only useful to you, but it provides a good impression to your customers. Even if the feedback is bad, this provides ways you can improve and could actually improve the relationship with your customer if you demonstrate your respect for your customers feedback and make an improvement.
Some of the suggestions above may only be done once or twice, while others its best to keep doing on a regular basis. The more ingrained getting customer feedback is into the culture of your company, and the more consistently you collect feedback then the more consistent the data you have to really make improvements. This will also likely feed down to your own employees, engineers and subcontractors helping ensure they maintain high levels of customer service.
Find out more about Okappy Job Management software and check out how electricians, plumbers, facilities managers and more are reducing paperwork by automating their job sheets.
Electronic job sheets and job management is now handled by the Okappy Market Network. It has a number of reports to help you better manage your jobs.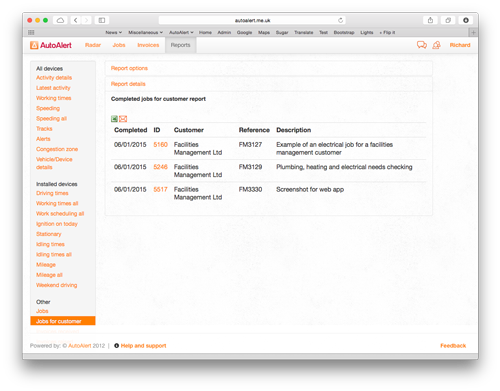 From within Okappy, to access your job reports, simply go to your Reports page, scroll down to the Other section and then chose your report to show all your jobs over a certain time period or jobs for a particular customer.
You can choose what date you want to run the report from and to and select the customer if required.
Both reports can be exported to Excel.
You can edit any jobs that have not been completed or archived.
Find out more about Okappy's Job Management Software.
As electricians, plumbers and property developers do more and more jobs through job management software, its important that you software has filters so that you can see the latest 5 jobs, 50 jobs or 100.
With Okappys job sheet software, there are three new filters to help you more easily see the information that matters.
From within Okappy, simply click on the filter button from the jobs management page and then select Latest 5 jobs, Latest 50 jobs or Latest 100 jobs. Of course, the other filters are still there so you can concentrate on your jobs for today, outstanding jobs, future jobs etc.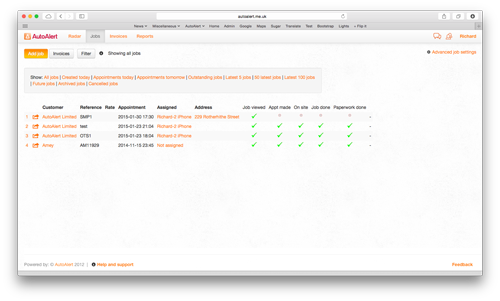 Find out more about Okappy's job management software.