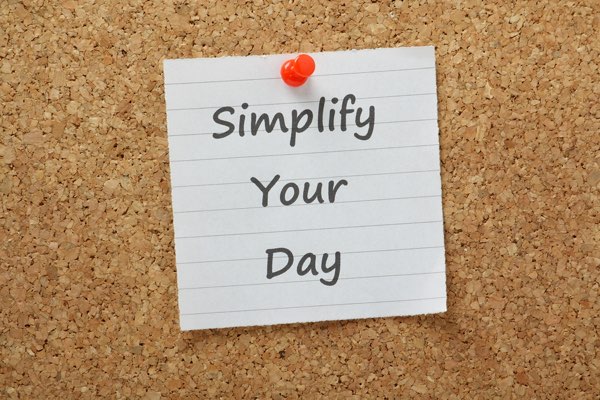 Doing what you love makes working easier.
However, even if you love your job, no day is the same and it's not always easy to enjoy your work.
So, how can you work day in, day out with the same enthusiasm? How can you keep your customers and employees happy? And how can you have more time for other activities?
Here are 10 Tips to Make Your Work Day Easier:
Prioritise your tasks. Doing things that take up a long time but provide little rewards should be avoided. Focus on your top tasks and avoid unproductive things which are not going to help you move forward.
Don't over plan. Planning is important. However, its too easy to spend all your time planning leaving no time to actually getting anything done.
Learn to manage Email. Just reading all your emails can take up a large chunk of your day. But how many of the emails are actually important. If you deleted a chunk of emails would you be any worse off? Managing your emails better will free up time. Only look at emails at certain points in the day, use email filters to allow you to concentrate on the emails that matter and send quick replies with a follow up phone call rather than writing long essays.
Learn shortcuts. Setting up auto-text on your mobile allows you to respond to office messages on the go. You do not need to type the entire thing every time while responding to messages.
Say "no" when necessary. In addition to removing a few things from your 'to-do' list, saying "no" also becomes vital in the work place. Saying "no" conveys that you are capable enough to distinguish between work priorities, productive and unproductive work.
Question what is not clear. Question the things that you are not sure about. Getting on the same wave length with your customer will help ensure tasks are done quickly and efficiently without having to come back to problems and disputes later.
Keep communication open. The way you interact or communicate with people defines how smoothly you can manage your work. Hence, maintain professionalism, yet build personal rapport with colleagues, customers and subcontractors. Keep all your communications clear to avoid any misunderstandings.
Delegate work. Have a long list of tasks? Make it easier by delegating. Also consider the longer term, it may take a a bit longer initially to train a colleague but could pay big dividends in the long run whilst also improving their morale.
Don't stress. You cannot maintain the same level of energy every day and for every task. Enjoy the flexibility of being your own boss and allow time to rest, recuperate and think about your business.
Get organized. The key to make your work easier is organizing everything- from your desktop to Email inbox, and from interactions with colleagues to meetings!
How Can Job Management Help
Job management cannot help all aspects of your business. However, it can help improve communication, help you delegate your jobs and ensure you are organised.
With Okappy Job management you can allocate jobs to your employees and subcontractors and see the status as the jobs are completed. Key information is automatically recorded meaning less potential for disputes with clients. You can also improve communication via instant messaging between your computer and your employees and subcontractors mobile telephones.
Find out more about Okappy Job Management and how it can help make your work day easier.
Jobs reports are now managed by Okappy. With Okappy, you can easily see what jobs have been done by customer, by employee, or what jobs have been done over time.
To view jobs done by an employee over a period, select Reports, Jobs and then Jobs for Employee.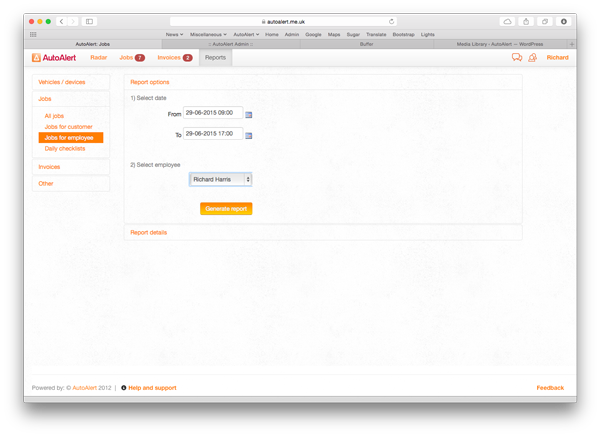 You can then select the time period and the relevant employee to view all their completed jobs.
For further information
To find out about other reports, check out our help and support page or find out more about Okappy Job Management and how it can benefit your business.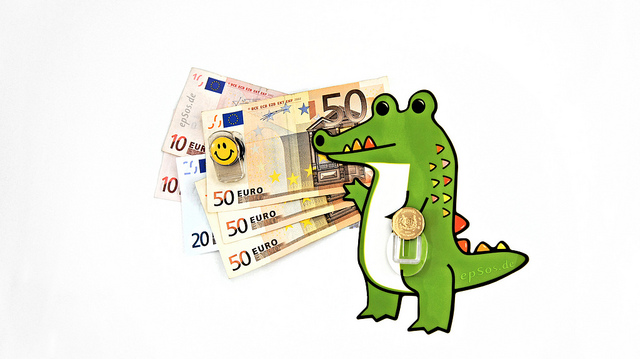 As the owner of a busy electrical contracting business, getting paid on time is nearly always the biggest bug bear. Late payments, or worse, missing payments can have serious consequences on cash flow, and has even been responsible for the demise of small businesses.
The problem
When we speak to electrical contractors, about the challenges of running a business, eliminating or reducing the paperwork is on the wish list of every business owner. In fact, the paperwork can be such a challenge that any non-essential paperwork can quickly become lost or passed around from pillar to post in the hope that someone will deal with it.
The issuing of invoices is one such problem. Electricians are telling us that invoice problems range from no sending one at all (no invoice, no payment!) to not chasing up late payers and having no system in place to make sure payments are received on time.
The Solution
Cut out some of the paperwork, cut your printing and postage costs and send your invoices electronically. A system that works well in the electrical industry is to send the invoice to the customer upon completion of the job. It takes just a few clicks of a button to email the invoice straight to the customer before driving away from the job. This ensures that invoices are sent on time and is not down to one person to find time every month to send each and every invoice manually.
When managing a remote workforce it is important that an effective invoicing software program is in use to make sure employees actually use it – the two basic functions will be usability and speed.
What to look for in invoicing software
A simple reliable system that is easy to use is vital. It needs to be easily accessible by all your employees so that they actually use it. Never be tempted into free downloads. Not only are these rarely updated, but they can be full of bugs and errors and can actually cause more harm than good.
You need to make sure the software that you chose to use is supported and does what you need it to do without any costly useless features. Look out for:
A Customer database – so you can easily find customer details – no more searching for email addresses on scraps of paper!

Autofill features – sending documents should be possible in a few clicks

Integration with an accounting platform – to save time on HMRC returns

Alerts to flag late payers so that the appropriate chase up methods can be deployed.
Streamlining your invoicing function makes sense and will save hours of manually completing book-keeping statements.
Above everything else it will save you money and improve workforce management.
Like this blog content and want to hear more from us? Be awesome and sign up!
Or connect with us on Twitter @autoalert
Job management is now handled by Okappy.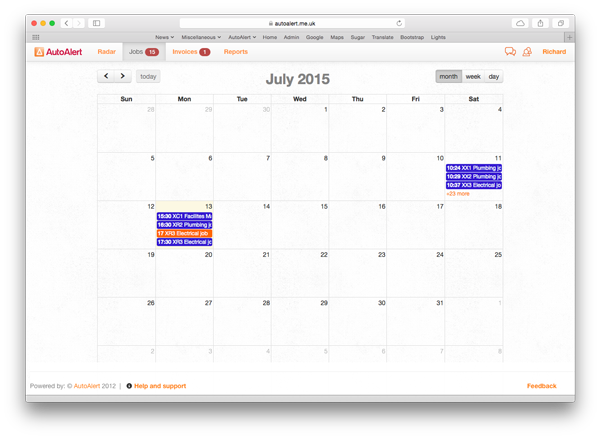 You can view the details for each job by clicking on the job. You can also add a new job from the calendar by clicking on the relevant day.
Each job is colour coded so you can see at a glance which of your employees, the job relates to.
Selecting Your Calendar View
To view your pending jobs in a calendar, click the calendar icon from the top of your jobs page.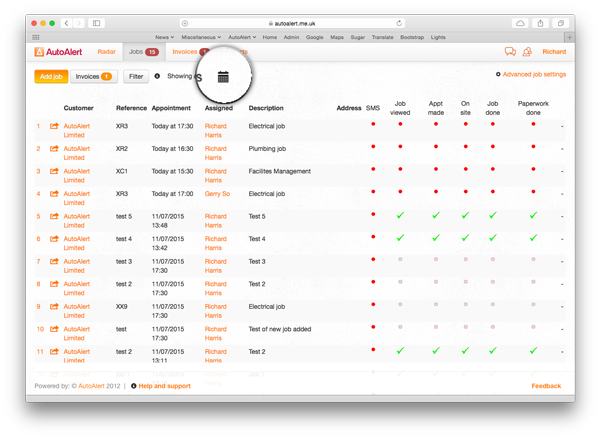 This will open the calendar view showing all your pending jobs.
You can set different colours for each employee by clicking on the contacts icon

, selecting employees and then clicking on the highlight box at the bottom of the page.
You can select any colour and then click Update. This will change the colour of all events for that employee.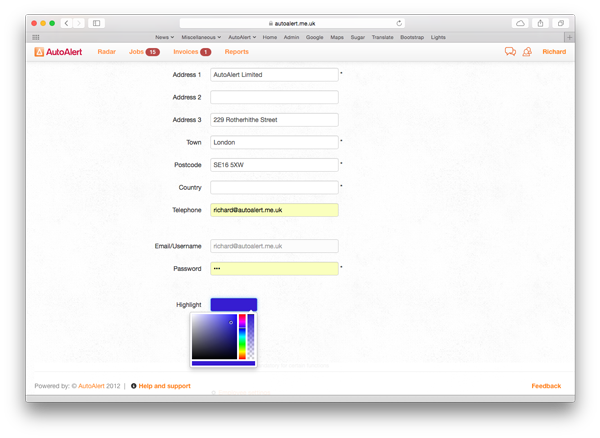 Find Out More about Job Management
Find out more about Okappy Job Management or join the conversation and connect with us on Twitter @autoalert.
George Osborne has unveiled his budget today with one of his key initiatives being an increase in productivity for UK businesses.
Great Britain has a woeful record on productivity with statistics showing UK workers producing a lot less per hour than workers in many other industrialised economies. This doesn't bode well as economic growth is heavily determined by productivity, even more so when we have a stable and/or ageing workforce.
But economists have been scratching their heads as the link between economic growth and productivity appears to be somewhat broken. The UK economy has performed relatively well compared to many other industrialised countries whilst our productivity growth has been lower.
No-one quite understands what's going on. Some say it's because the way we measure productivity is either wrong or incomplete whilst other point to the structure of the UK economy which is more heavily biased towards services.
In the UK, we have a lot more electricians, plumbers, hairdressers and consultants than say Germany which is more heavily skewed towards manufacturing.
Productivity in the Service Sector
Unfortunately, it is often more difficult to increase productivity in the service sector. Unlike in manufacturing organisations where you can buy the latest machine for your production line and watch the output per worker increase, in the service sector it is not as easy for a hairdresser to increase the number of haircuts s(he) provides, no matter how sharp her scissors.
George Osborne, the British chancellor promised to unveil a plan designed to "make Britain work better" in his Budget on 8 July. But what can really be done.
We have conducted research with a lot of our customers who work in the service sector. They range from electricians and plumbers through to security companies. The conclusions we drew was that productivity can be increased substantially, even in these industries.
In many of these industries there is still a heavy reliance on paper for job sheets, work sheets or delivery notes. Filling out these paper forms is very inefficient and time-consuming with paperwork alone often taking up at least a couple of hours for each engineer and even more for the boss of the company.
With the average time spent on a job being around an hour, spending 2 hours on paperwork means 2 jobs lost which not only costs the company money, it ultimately affects the UK's productivity statistics.
A heavy reliance on paper often results in engineers having to come to the office to pick up their jobs each day and then bring their job sheets back at the end of the day or week. Again this means time wasted when an engineer could be working and higher costs for items such as fuel.
Using paper job sheets often also leads to missing invoices or disputes when an invoice is simply forgotten or the customer queries the amount on the invoice. This takes up time which could be better served in growing the company and leads to lost work and lost productivity.
But what can be done?
"There are jobs that organisations are unable to automate," says Prof Peter Fleming at Cass Business School of City University London. Jobs like flipping burgers and driving buses which though necessary are low skilled and low paid and don't add much to the overall economic output.
But Prof Fleming also sees other factors at play. He says Britain's workforce has been "neglected in terms of pay and conditions."
Wages have stagnated for the past few decades and an increasing number of people are working on "zero hour contracts" where staff is hired with no guarantee of work and uncertain pay. Prof Fleming argues that this has demoralised the workforce, depriving them of incentives to work better or harder.
But there is hope. Technology is having a huge impact on the way many people work and the impact is starting to be felt in the construction, electrical contracting and plumbing sectors.
Cloud based software means that information can be shared more easily and be instantly accessible wherever your workers are. The latest job management software in particular can eradicate paper based job sheets, sending information to the engineers mobile telephone and updating the office as soon as the job is complete.
This leads to less administration, fewer mistakes and higher productivity.
When it comes to productivity, making sure your staff have the right training is also key, says Pizza Express boss Richard Hodgson "It's a very difficult time to be an average worker," he says. In the UK "we have seen the proliferation of any type of work – work that doesn't add anything to the economy – just to get people off the unemployment list."
Find out more
Interested in finding out more, leave us your email and we'll keep you up to date with our latest thought pieces.
Or get in touch on twitter.
Job management is now handled by the Okappy Market Network and its job management software. With Okappy Job Management, it's easy to see what is happening with all your jobs.
You can quickly focus on the exception rather than having to worry about the status of all your jobs. Any job which is running late will be automatically flagged up.
But what if you're the engineer who is actually doing the job, and you would like to set a quick reminder.
Setting reminders is also very simple to do. Check out the steps below to quickly create a reminder for your job.
Creating reminders
To create a reminder when you're in a job, simply click the plus button at the top right of the screen to show the Create reminder pop up box.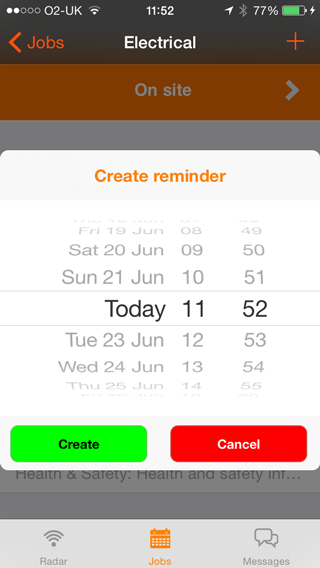 Once you have selected the date and time of the reminder and clicked Create, the reminder will be created with the job description automatically populated.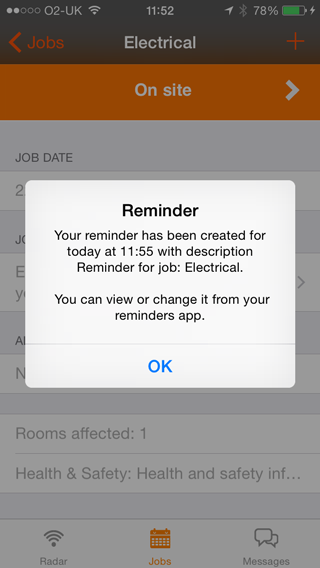 You can easily open your iOS reminders app by clicking on the AutoAlert icon on the top left of your jobs screen and then clicking View reminders.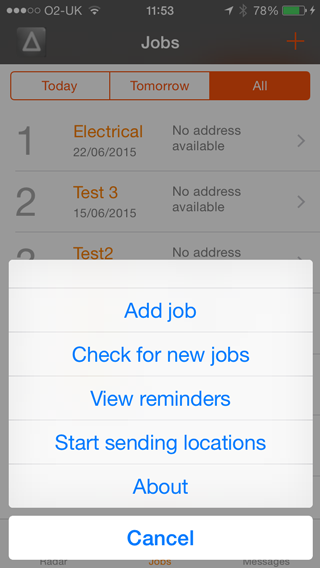 You can see all your reminders.
At the designated time, the notification will pop up on your iPhone, iPad or Mac.
Find out more about Okappy Job Management and how it can benefit your business.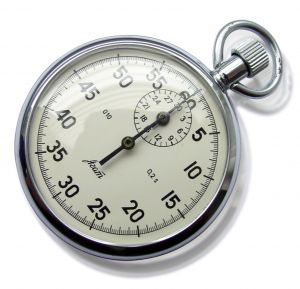 It's a fact that simple administration tasks consume around a third of the overall working week for most small to medium-sized businesses including electricians, plumbers, facilities managers. Paperwork wastes time and can hinder the potential growth of a business.
Across the 1.1 million businesses that work on an appointment basis, there is an awful lot of time wasted due to managing bookings as well as interruptions caused by customer queries. It may come as a surprise to know that both of those conditions can be automated to save time.
Across all the SME's (Small to Medium Enterprise) within the United Kingdom, a shocking 20 million minutes are spent each and every day dealing with simple administration tasks. On average, up to a staggering 5 minutes can be spent coordinating and making alterations to each individual booking, this kind of time wastage is unacceptable, especially as it can be dealt with efficiently using the right technology.
The FSB revealed in a recent study that around 12 days per year are wasted with tax administration. Again, this is another factor where time, and therefore money, can be saved.
Missed Appointments
For businesses such as electricians who run on an appointment based structure, it does have a huge effect when customers fail to keep booked appointments. It's a huge hindrance, and cause businesses a lot of wasted time and money throughout the course of a year. It's estimated that across the country, 40 million minutes are consumed in clients no-shows and coordination mishaps.
The NHS is a prime example and has been estimated to lose around £700 million per annum due to missed appointments alone. It goes to show that whether a business is large or small, none can escape the lost time and money resulting from customers missing appointments and then the re-coordination of appointments after.
Time and Job Management
For most SME's, hiring a personal assistant or receptionist can become a huge financial burden, especially for smaller businesses. With the average salary of around £24,600 per annum, hiring an assistant just isn't possible, and that is where alternatives such as online booking and job management systems which take away a large chunk of the admin can become very attractive.
Gerry So, Okappy says
Small businesses spend too much time on managing bookings, customer no-shows and needless admin, which is limiting the time they can actually invest in growing their business and getting more customers.

Online job management systems can mitigate high costs of hiring PAs and money lost on missed appointments – it's really about providing local businesses with the opportunity to thrive.
Small to medium businesses alike spend far too much time on needless administration tasks such as reorganising and managing appointments, as well as dealing with customers who just failed to keep to their appointment. All these factors work together in limiting time and resources that could be used more productively in expanding a customer base and helping a business grow.
Take Advantage of Systems
Making use of efficient systems can aid small businesses such as electricians in improving job and time management. Making use of systems to aid in the day-to-day running of a business can really help reduce paperwork and free up time for more important tasks. The following are some systems that can help cut costs and lower time wastage.
Customer management
Job management
Scheduling appointments online
Estimations
Time Tracking
Automated invoicing
The main aim of any business should be to cut costs where possible, save time and then become more profitable.
Time is Money
Making use of such technologies as job management and online bookings can really help businesses both large and small to thrive. Therefore, allowing companies to focus on the important things such as improving customer service. The money that is saved can be used to expand the business and help fuel growth.
The current economy is looking positive and can help businesses to expand, but it's essential that businesses become more streamlined and efficient. A great start would be by eliminating the various time and cost wasting factors discussed, then businesses can really make the most of these savings and grasp even more opportunities to grow.
Find out more about AutoAlert Job Sheet Software and how it can help you avoid missed appointments.

We are proud to launch our first Okappy Job Management Newsletter 'What's new in the Q' which provides quarterly updates on any new features, exciting news in the company and any tips which we believe could add value to your business.
Our mission is to provide companies with Real-time Visibility over their Field Workers and Jobs. Allowing you to streamline your operations whilst freeing up time and reducing your costs. How do we do this?
You can create your jobs and allocate them to your employees or subcontractors – no more paper job sheets and admin.
View the real-time status of your jobs- no more chasing phone calls.
Raise an invoice with one click as soon as job is done – no missing invoice and better cash flow.
Connect to your customers, employees and subcontractors,
Available where it suits you, on your desktop, tablet or mobile. Simple!
So…What's new in the Q
We've created a new short video showing how our web and mobile based Job Management Application can benefit you. Check it our Demo.
We are growing with 2 new directors coming on board this year.
We have been shortlisted in the 'Green Light' programme sponsored by Capital List and the London Co-Investment Fund. It's an 8 week programme which offers workshops to support start-up growth (us!) and introductory meetings with the co-investment partners.
New features
We've been busy listening to your comments and suggestions and looking at ways we can make your lives easier. New features this quarter include:
You can now email your completed job sheets to your customers, direct from the job
We've added the ability to create different job types with different check sheets
You can now use your customer job sheets
We release a big update to our iPhone and iPad apps, check out the latest updates to AutoAlert iPhone and iPad App.
You can now export you invoices to Xero Accounting.
We've seen heavy traffic over the last month, so we've been spending a lot of times behind the scenes trying to streamline and improve the system to make sure it continues to run smoothly and quickly.
Useful tips
Do you know the Top 5 reasons our customers give for getting rid of paper job sheets?
1) Missing, late or incorrect invoices – the biggest drivers for our customers. Is it one of yours too? This is often a direct cost to the bottom line and can be eradicated by moving over to a paperless job sheet system.
2) Not enough time in the day – not only is it inefficient to manually fill in job sheets, you then spend time collating the info, inputting them in the system. Surely time can be better spent on business growth, training or even go home on time.
3) Forgotten information – rather than scribbling down on a bit of paper, it's good practice to have all key information stored in ONE centralised system. Saving time searching and retrieving job information. It's always good to have the information to hand when it comes to disputes with customers/ employees.
4) Create first class customer and employee relations – no more chasing phone calls, every party in the chain can see the job status in real-time. You can also send instant messages from your desktop, tablet or mobile to improve communication.
5) It's environmentally friendly after all – let's go green!
Find out more about AutoAlert's job sheet software and how it could benefit your business.
Upcoming focus
We're currently looking for business angels/investors to help us grow.
We're promoting AutoAlert – yes you'll be hearing more from us via Facebook, Google+, Twitter…
If you would like to contribute to our newsletter, or have any suggestions of what you'd like to see covered, then get in touch.
Sign up for our newsletter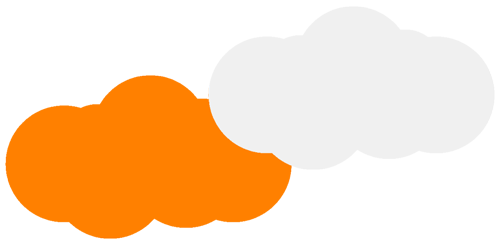 You've heard of cloud services, heard how much time and money you can save by moving key functions of your business to the cloud.
You may even be using a cloud service already.
But are cloud services safe and can they really help you to function better, be more flexible and save money?
Office space, size of workforce, budget or skill level no longer have to be a limiting factor, as the cloud connects you to a seemingly infinite network of resources, software and storage facilities. Whether you need to train employees, collaborate or check your cashflow, it's no longer just useful to embrace the cloud – it's essential.
So how can the cloud help?
1. Productivity software
Your business isn't going to achieve much unless you have a productive workforce. Job management software can help manage a remote workforce, collaborate and communicate on important data and content from any location, simultaneously.
2. Online storage and backup
Creating a business can require reams of sensitive and important documentation and data. Storing it all on one device or piece of hardware can be problematic, if that device has finite capacity or worse, breaks down… The cloud allows for secure and almost unlimited storage of files and data at very little cost.
File hosting services such as Dropbox, Box, Google Drive and OneDrive offer online storage for little or no cost depending on your needs. Data can then be accessed from any internet enabled device, ensuring it's always accessible and you're never going to lose it. You are also able to control who is able to access and edit any shared files.
3. Finance and accounting software
The cloud is not only helpful for sharing and editing documents but also offers accounting software that mitigates the hassles of complicated and tedious financial admin.
Online accountancy software providers like Sage and Xero can help make accounting and payroll processing easier. The latest software is simple and easy to use, so even if accounting isn't your strong point, you'll be able to approach it with confidence and have more time to focus on running your business.
These programs are targeted and tailored to small businesses and start-ups and are designed with your needs in mind. You can keep track of your cashflow, the lifeblood of any fledgling business, check tax and expenses and send invoices.
4. Email and phone communications
With a myriad of communication methods now available, for many modern businesses traditional phone and communication systems are either no longer up to the task, or are simply not cost-effective.
There's no denying the importance of email to any small business, but while in the past setting up an email system would involve the cost of a server and software licenses, the cloud can offer a low-cost alternative with no hardware or software required. Both Microsoft's Office 365 (which offers Exchange Online) and Google's Gmail offer far greater scalability and flexibility than server-based solutions. Employees can access email from anywhere on the go and work collaboratively. For business owners there's the benefits of no server maintenance and lower costs as well as easier disaster recovery.
And it's the same story when it comes to phone systems. Unlike static phone systems that are tied to your desk, VOIP services allow you to work from multiple locations with one local number and calls routed automatically. This helps you communicate with each other and with your customers.
Do these tips work for you? How do you use technology to help you grow your business? We'd love to hear your ideas and experiences. Please tweet us at @autoalert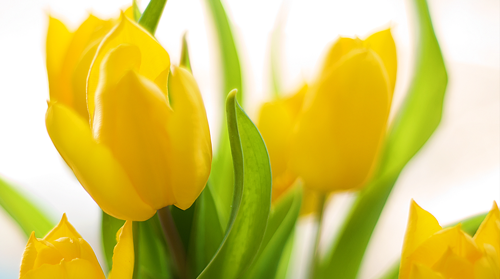 Its spring, the evenings are getting lighter and the weather warmer. Traditionally this is the time for spring cleaning and getting rid of clutter.
So why not also spring clean your business? It's all too easy to download lots of apps, sign up to lots of newsletters and spend time and effort on old, outdated ways. Perhaps its worth clearing out the junk, looking at how you work and maybe starting afresh.
Technology in particular can often be more of a hindrance than a help. Check out our tips on how you can get technology to work for you rather than against you.
1. Remember who's boss
Technology should be working for you, not the other way around. If you're spending more time entering data or figuring out how an application works rather than running your business then perhaps that application is not right for you. Take the plunge and delete it, there's plenty of other apps out there.
2. Time to Unsubscribe
It's easy to get distracted by everything that's going on in the world. Whether you sign up for news apps or newsletters which looked interesting at the time. If you're spending all your time reading news rather than creating news, then perhaps its time to unsubscribe from some newsletters or drop some of those apps.
You can also work smarter with your emails and texts. Rather than continuously checking your emails, why not check them once a day. If they are important you will likely get a call anyway but most not that important.
3. Don't get tied down
Smartphones, tablets, laptops and wi-fi all allow you to work whenever and wherever you want. This allows you to spend time away from the office, you can visit customers, get inspiration or even just get time away to think.
More than half of all emails are now opened on mobiles, a figure which is expected to reach 80% by 2018, so use technology to communicate when it suits you, when you are traveling between meetings rather than when you should be thinking about other things.
4. Embrace the cloud
The cloud can give you a competitive advantage and bring long-term value to your small business. It gives you access to the IT benefits previously only available to larger businesses.
Cloud solutions offer the storage, security and flexibility you need to grow your business. It can help reduce your IT costs, improve reliability so you spend less time fixing issues and although people are wary about security, cloud computing can actually increase your security as the latest fixes and updates are managed by a professional company who are continuously monitoring the latest security trends and advances..
5. Save time and money with the latest apps
Apps can make light work of some of the tedious admin chores of running a business and free you up to focus on what really matters – your customers. They can also help you to find who those customers are and communicate with them better.
There's a huge choice of apps to help you keep track of time, manage your jobs and remote workers, ease invoicing and get to where you need to be..
Apps are also a great way for small business owners to keep up to date on the latest news and views in their sector. Although make sure you don't end up getting distracted with all the news that's out there.
6. Create better conversations
Integrating your social media and sales can help you to understand your customers and communicate with them. Social media can also help you reach a wider audience at little cost (at least in monetary terms). Social media can also hope you create word of mouth recommendations, gather testimonials or garner feedback.
Do these tips work for you? How do you use technology to help you grow your business? I'd love to hear ideas and experiences and share them with other small businesses. Please tweet us at @autoalert