More than half of British workers lie to their employers about the amount of overtime they've completed in order to pocket more cash, according to money saving site VoucherCodesPro.co.uk.
Almost a third lie about their expenses (so its not just politicians) and almost third lie about mileage.
When asked why they lie to their employer – 21 per cent said they lied because they could, while 14 per cent said it was because they dislike their boss. More than three quarters, 78 per cent, said they had never been caught, while the remaining 22 per cent had been found out.
Most people involved with any kind of vehicle fleet are at least somewhat familiar with the benefits of fleet tracking technology. Large fleets of all kinds are nearly always equipped with some sort of tracking equipment, which allows the vehicle owners to conduct operations more efficiently and more effectively. The cost is pretty high, but when that cost is allocated across a large fleet, it becomes economical.
The high cost of fleet tracking would seem to put it out of reach of most, if not all, small fleet operators. Thanks to new technology and an innovative application of that technology, it is now possible for vehicle tracking to be economical for small fleets, even those as small as one or two vehicles.
This new technology is revolutionary in that for the first time, a fleet operator can monitor and track vehicles through a portable GPS tracking unit, a standard mobile phone, iPhone, iPad or the web with minimal installation in the vehicle and no complicated software to download, install and understand. This means that upfront costs and operating costs are much lower and very affordable.
In contrast to traditional systems that require a large capital investment and substantial monthly fees, this is a huge advantage for small fleet owners. And if the small fleet operator wants to lower the costs even further then they can use their own SIMs.
One of the most attractive aspects of this new technology is that it tracks vehicles proactively rather than reactively. In other words, the system is constantly aware of where each vehicle is located, unlike traditional systems that depend on the vehicle owner to contact the central call centre and initiate a tracking request. It also can send customised alerts and messages to notify the operator if a vehicle is having a mechanical problem, has been stolen, or is otherwise in need of attention.
Why, exactly, is this new technology so helpful to small fleet operators? Because it allows the operator to benefit from less driver downtime, more efficient dispatch, and the freedom for fleet managers and engineers to spend their time in the field rather than in the office. And all of these things contribute to the one thing that is most compelling – increased profits due to better fleet management.
There is currently one company offering this new technology to individual consumers as well as fleet operators of all types and sizes. It is called AutoAlert and is based in the UK, but has the capability to offer service across many other countries around the world.
Regardless of the size of your fleet, the good news for your bottom line is that fleet tracking technology has changed for the better. Now more than ever, it is economical and convenient to track even small fleets efficiently, conveniently, and at a reasonable cost.
Sometimes you're vehicle might show as stationary even though you know that you're vehicle is actually moving.
This could be one of three potential issues.
Checking which of these is the likely reason for your issue is easy. Simply click on the radar screen when logged into your account and click on your vehicle.
The pop up will show the status of the GPS, the time the GPS unit was last seen and whether the ignition is on or not.
If the GPS signal is weak, then the signal could be blocked due to a number of factors including the current position of your vehicle relative to tall buildings, hills or dense trees. It could also be due to environmental conditions.
In each case, and especially if the vehicle is moving around, the unit should eventually be able to reacquire the signal and start updating its correct location.
Please note, if the signal is lost due to environmental conditions and the vehicle has parked. Once the conditions improve, the unit will get its correct location but won't update its position until the ignition is switched on again.
If the vehicle is moving but the last seen time is relatively old, This could be due to poor network reception in the area.
The unit will store its location and once the reception has improved will start transmitting its locations again.
Following is our response to the judges questions and how we believe we can help millions of companies with remote workers really improve their own business.
Living in London, it was often difficult to find a parking space near my home. At the time i had a nice car but one day i came down in the morning to find a note on my windscreen saying "if you don't turn the *$!£$&? alarm off, I'll put a brick through the window" Obviously an alarm is not much good if all it does is upset the neighbours. So when my brother came up with a way to link his car alarm to his mobile phone and ring you when the alarm was activated i thought this was an excellent idea.
That was the originally idea, as we could track the phone we could also offer a more simple and cost-effective alternative to Tracker. However, the market was effectively closed due to the Thatcham regulations set up by the insurance companies. We were also getting interest from tradesmen who liked to be able to track their colleagues when they were out on jobs so we moved into fleet management. We continued to grow and develop and a couple of years ago one of our clients said they would also like to track their jobs as well as their vehicles – hence the latest iteration of the product.
I gave up a lucrative career in the city and invested a lot of time and money into the project. Risks include getting off the career ladder, the potential negative impact on friends and family and the worry of where the money is going to come from to pay the mortgage.
What is it that sets you and your business apart from your rivals?
Job scheduling used to be the preserve of large companies using complex systems. With the advent of smartphones, more simple phone based job management application are now available. This is leading to new markets with smaller companies.
Job scheduling used to be the preserve of large companies using complex systems. With the advent of smartphones, more simple phone based job management application started appearing, opening up the technology to smaller companies.
AutoAlert is different due to the connected nature of our system. Other applications work well for individual companies but fall down when companies get jobs from their customers, or when they use subcontractors. Large companies with many subcontractors can also not view the status of their jobs without chasing individual contractors.
With AutoAlert, companies can connect to their own customers and subcontractors. Everyone knows the status of their jobs as they're updated. There's no chasing people and information is readily available meaning queries can be escalated immediately rather than weeks later when information may have been forgotten. You can also raise your invoice when the job is complete and see whether your customer has viewed and paid your invoice in real-time.
This creates massive value for our customers and value for us as our customers are incentivised to invite their own customers and subcontractors onto the platform. We can do much more without commensurate increases in resources.
Give details of your products or services and what makes them different?
AutoAlert's mission: eradicate paper based job sheets.
Millions of jobs sheets are created each day to give job details to remote workers such as electricians and plumbers and to get information back about the work they've done on each job.
The current process is labour intensive, involves lots of duplication, especially as more subcontractors are involved in the job and is opaque with no one knowing what is happening with each job until the job sheet is returned – often weeks later.
There are other electronic job management solutions, but only AutoAlert offers a "social network for blue-collar workers" allowing companies to connect to each other, send and receive jobs, then check and share the status of their jobs as they're updated in the field by the engineer on their mobile phone. Invoices can be raised through the application and are immediately available to your customer. You can see whether they've viewed and paid the invoice meaning no more delayed invoices or invoices lost in the post.
AutoAlert provides clarity over what is happening as it happens, this leads to less anxiety, less chasing of people and more time for other tasks such as growing your own business.
Please give any other information about your entrepreneurship which you think would help convince the judges that you should win the award.
Its my ambition to create a billion dollar company. Not for the fact of creating something worth a billion but for the aim of creating something special. Something that few people have done and something that can create a big and lasting impact in Britain, Europe and beyond.
My desire is to be special, and that feeds thought into everyone we do at AutoAlert. It is why we spend so much time listening to our customers, it's why we spend so much time trying to learn from best in class companies and it's why we're continually striving to improve everything we do.
If AutoAlert is special, if we create tools which are powerful, yet simple and easy to use, then we can also help our customers to be special. If we can make their life's easier, if we provide the tools so they can offer excellent customer service and if we can help free up their time to improve what they do, then we believe they can also stand out from the crowd, and together we can all grow.
Please provide a maximum of three personal testimonials
David Perfect – "its like opening a window on my world"
Graham Warby – "it allows me to expand my business knowing i only have to deal with the exceptions whilst the rest of the jobs take care of themselves".
Peter Gilbert – "it means we can provide our customers with the details they're looking for when they ring, rather than having to ring our drivers and then get back to them".
50 word summary about AutoAlert
Millions of jobs sheets are created each day providing job details to remote workers such as electricians and to get information back about the work done on each job. AutoAlert's aim is to eradicate these paper job sheets and replace them with our connected web and mobile phone based platform.
Find out more about AutoAlert's unique Job Management Software.
The European Satellite Navigation Competition was established in 2004, and has rewarded the best services, products, and business cases that use satellite navigation in everyday life.
AutoAlert uses satellites to provide location information to our customers so they can better manage their vehicles and better manage their jobs.
Following is our response to the award
Summary
AutoAlert mission is to eradicate paper based job sheets for remote workers.
Using paper based job sheets is labour intensive with lots of duplication, especially as more subcontractors get involved in the job. In addition, no one knows what is happening with each job until the job sheet is returned. This leads to stress, anxiety and lots of chasing. It often also leads to delayed or inaccurate invoices as job sheets are returned with difficult to read or missing information.
AutoAlert has a massive opportunity to create a social network for blue-collar workers which eradicates the need for paper based job sheets whilst improving the performance and efficiency of companies operating in complex supply chains.
We are a small company, however we have already achieved big things with almost 20,000 customers on our platform.
With AutoAlert jobs we believe we can acquire many more customers due to the vitality of our platform and huge value in our customers connecting to their own customers and subcontractors and then being able to share the status of their jobs and communicate easily via a desktop, tablet or mobile telephone.
A description of AutoAlert's solution
Our mission aim is to eradicate paper based job sheets.
Millions of job sheets are created each day for remote workers. They give information about what jobs need to be done and are used to get information back about what work was done for each job.
Unfortunately, this is a very labour intensive process with lots of duplication, especially as more subcontractors get involved in the process. In addition, no one knows what is happening with the job until the job sheet is returned. This leads to stress, anxiety and lots of chasing. Invoices may also be disputed or delayed when information is missing, difficult to read or inaccurate.
AutoAlert jobs resolves these problems by creating a "social network for blue-collar workers" which allows companies to connect to each other, share jobs and then update those jobs on a mobile telephone while the job is being done rather than at the end of the day or week.
Prior art in this field is provided by companies such as Oracle and SAP who offer complex Enterprise resource planning (ERP) systems to large organisations. More recently, companies such as GeoOp and vWorkApp have entered the market with more simple work tracking solutions using smart phones.
These solutions work well for individual companies but fall down when more than one company is involved in the job as existing applications do not allow companies to connect to each other and share the status of their jobs. AutoAlert is a connected system and works right the way along the supply chain. This means that you can see the status of your jobs which are being completed not just by your own engineers but also the jobs which are being done by your subcontractors.
The key components to the system is AutoAlert's cloud based infrastructure combined with mobile phones and/or GPS tracking devices. Utilising the location of the mobile phone or GPS tracking device enables the key aspects of the job to be updated automatically such as when an engineer is on site. it also helps with health and safety concerns especially when engineers are working on their own and in potential dangerous conditions.
AutoAlert's use of satellite tracking
AutoAlert uses GPS, CellId and WiFi Location to check the location of the engineers, create location-based alerts and update the status of the job when an engineer arrives or leaves the job site.
We prefer CellId to derive location as it is the most readily available source of location and is available at the lowest cost in terms of power. It also provides adequate accuracy for our needs.
GPS and WiFi are also used to improve on the accuracy of the location. GPS is pretty ubiquitous and is available in most smartphones and a wide choice of tracking devices. GPS chips are cheap, readily available and well-tested.
We are keen to use other location technologies including Galileo as this will likely improve accuracy and reliability. However, we are mostly reliant on their adoption by mobile telephone handset manufacturers.
Target market
Our target market is growing companies with remote workers. This could include electricians, plumbers, transport and logistics companies and fire and security companies.
There are two target markets for AutoAlert Jobs. The first is small but ambitious companies. Bigger than one man bands but without the resources including time and money to invest in more complex systems.
In the UK there are almost 35,000 electrician companies with a size of between 10 and 100 employees. There is a similar number of plumbing companies. There are almost 60,000 transport and logistics companies.
They can benefit by being able to take on more work, offering a more professional service to their customers and by being able to check the status of their jobs.
Competitors to AutoAlert include GeoOp and vWorkApp who offer job scheduling software on smartphones. However, their applications only work internally which means that companies within this market cannot connect to their own customers and subcontractors and share the status of their jobs with their customers and subcontractors without logging in and out of different systems or different accounts, duplication and extra work.
At the other end of the spectrum is large national and global companies who have a number of sites and use many subcontractors. Facilities managers at these companies are a particular target as they have a number of small jobs which are sent to their own staff or to subcontractors. They can benefit by being able to check the status of their own jobs and being able to check the status and performance of jobs done by subcontractors.
Competitors include ERP systems from the likes of Oracle and SAP. However, again these are focused on individual companies alone, they are also expensive and complex which means these companies cannot force their smaller subcontractors to use the system to provide the status of their jobs.
The business case
Using paper based job sheets is expensive in terms of administration, duplication, chasing of employees and subcontractors and disputes over invoices. Our customers estimate the cost for each job done using a paper based job sheet is £40 per job. This is about 10% of the value of a typically job.
By using AutoAlert, we can eradicate the majority of this cost as there is no more duplication, information is readily available to all interested parties, therefore less chasing of employees and as invoices can be raised automatically and as soon as the job is completed, this means less disputes and quicker payment of invoices.
AutoAlert is available on a subscription basis with three pricing plans.
A free tier is available for customers who want to update their customers jobs and communicate with their engineer. Our research has shown that this is important as larger companies want their subcontractors to use their system but don't feel that they can impose extra costs on their subcontractors. If the subcontractor does want to use the platform to create their own jobs for their employees or subcontractors then they can upgrade their subscriptions or by a bundle of job credits for about one euro per job.
The next tier allows customers to send, receive and update their jobs as well as communicate with their staff
The last tier includes a GPS tracking device which can be used to provide reports about vehicle movements, working times, driving times etc.
Bespoke solutions are available for large companies depending on their specific requirements.
Large companies spend a lot of time and money taking on subcontractors. However, once a contract has been signed, it is very difficult to check the performance of these subcontractors as they have no visibility over the job until it is completed or an invoice is received.
Even if the company has their own job scheduling system, they can watch jobs done by their own employees but cannot check those jobs done by subcontractors.
Our sales so far
AutoAlert has over 18,000 customers using its GPS tracking platform. However, growth is escalating as our customers see the value in connecting to their own customers and suppliers and sharing the status of their jobs.
As more customers start using the jobs functionality of AutoAlert then the potential for growth in customer numbers is huge
Find out more about AutoAlert GPS Tracking and AutoAlert Jobs and how they can benefit your business.
This guide is designed to help you dive into the power of AutoAlert and get the most from AutoAlert's award winning system: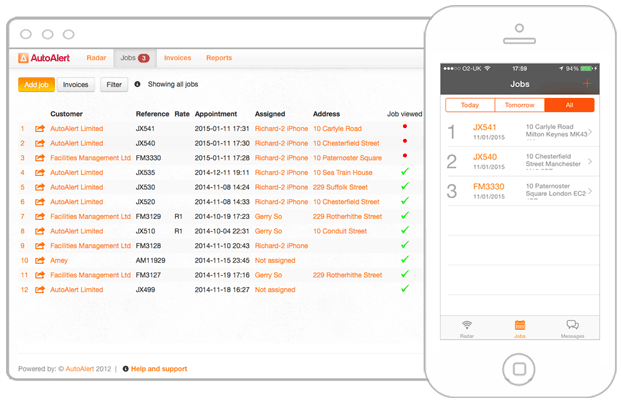 What is AutoAlert anyway?
AutoAlert is a simple system which helps you see what's going on in your business from tracking your vehicles, viewing the latest status of your jobs and keeping in touch with colleagues, customers and suppliers.
How is it useful?
AutoAlert provides the information you need about your business right at your fingertips. No more ringing around trying to find out where someone is or the status of a job.
You can connect to customers and partners and share information with them, allocate jobs to each other and share their status in real time.
AutoAlert also provides simple alerts and messaging to highlight issues and ensure transparent communication.
How to start using AutoAlert:
1. Firstly, create an account from the website or by downloading AutoAlert Monitor from the iTunes app store.
You can then add trackers, add employees and connect to customers and suppliers.
As you add connections, the value of the system increases as you can share jobs, messages and locations saving you and your partners time trying to find out what's going on.
2. CONNECT DEVICES: get locations
Download AutoAlert Monitor, put a portable unit in a vehicle or install our trackers and start getting the location of your vehicles in real time.
3. ADD CONTACTS: allocate jobs
Invite your employees, customers and suppliers to join you then start receiving and allocating jobs. You can also communicate with each other easily from your desktop or mobile, or from your iPhone or iPad using the AutoAlert Monitor application.
4. ADD JOBS: monitor your jobs
Start adding jobs to the system then update and monitor them in real time.
If you have employees and suppliers, you can allocate jobs to them and get alerted if the job is not viewed or the engineer is not on site.
&nbsp
For more help and support, check out our Support Centre.
Smarter driving helps cut CO2 emissions (and reduces fuel bills). We can all do our bit to reduce CO2 emissions, says the Department of Transport.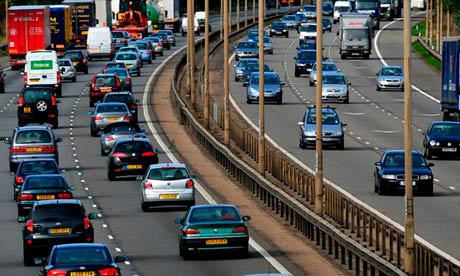 Pump up to cut down
Under inflated tyres create more resistance when your vehicle is moving, which means your engine has to work harder, so more fuel is used and more CO2 emissions are produced. Simply check and adjust your tyre pressures regularly and before long journeys. This will also help to increase the life of your tyres. Under inflated tyres increase CO2 but over inflated tyres can be unsafe so check your car manual for the correct tyre pressure. Remember, a car with a heavier load may need different air pressure in the tyres.
Lose weight
Less weight means less CO2, make sure you are only carrying what is needed for the journey
Less speeding
Driving at an appropriate speed reduces CO2
Speed limits are the maximum lawful speeds which may be driven in ideal circumstances. Drivers should never exceed the speed limit. Staying at or within the speed limit increases driver safety. It also reduces CO2 emissions and saves money on your petrol costs. At 70mph you could be using up to 9% more fuel than at 60mph and up to 15% more fuel than at 50mph. Use the AutoAlert speeding report to check for poor driving.
Less stops and starts
Check the AutoAlert stationary report for frequent stops which may not be needed. Less stopping and starting means less CO2.
Every time you stop then start again in a traffic queue, the engine uses more fuel and therefore produces more CO2. Keep an eye on the traffic ahead and slow down early by gently lifting your foot off the accelerator while keeping the car in gear. In this way, the traffic may have started moving again by the time you approach the vehicle in front, so you can then change gear and be on your way.
Less revving
Over revving accelerates emissions. Modern vehicle engines are designed to be efficient from the moment they are switched on, so revving up like a Formula 1 car in pole position only wastes fuel and increases engine wear.
Using your gears wisely by changing up a gear a little earlier can also reduce revs. If you drive a diesel vehicle try changing up a gear when the rev counter reaches 2000rpm. For a petrol vehicle change-up at 2500rpm.
Less idling
Idling is wasting fuel. When the engine is idling you're wasting fuel and adding to CO2 emissions. If you're likely to be at a standstill for more than 3 minutes, simply switch off the engine. Check the AutoAlert idling report for any vehicles idling for more than 5 minutes. In an LGV, this could also save you up to a litre of fuel an hour!
(c) Department of Transport. For further information, visit the Department of Transport website.
Find out more about AutoAlert GPS Tracking Software and how it can benefit your business.
2G | 2.5G | 3G | 802.11 | ADC | ADSL | A-GPS | API | ASP | AVL | Bluetooth | CANBus | CDMA | D-GPS | DECT | EDGE | EDI | E-OTD | ERP | ETSI | FMS-Standard | GIS | GPS | GPRS | GSM | HTML | IP | IrDA | ISDN | ISP | JAVA | LAN | LBS | MOBITEX | OBDC | PDA | PMR | PVN | RDS-TMC | RF | RFID | RMS | SIM | SMS | TETRA | TDMA | TMC | UMTS | WAN | Wi-Fi | WLAN | WMS | VoIP | VPN | XML | WAP | WVPN | WWAN
Second generation mobile telephone network, also known as GSM
Also known as GPRS. Mobile communication system for transfering data. Most likely used by Telematics applications such as AutoAlerts real time vehicle tracking system. Faster than 2G but lower priority traffic for the mobile networks and patchy coverage.
Third generation European mobile telephone communication standard. Also known as UMTS.
Data transfer standard for wireless local area networks. 802.11a works at up to 2Mbps, 802.11b works at up to 11Mbps whilst the latest 802.11g standard works at upto 54Mbps.
Automatic data capture.
Asymmetric Digital Subscriber line is a way to transmit data over standard telephone lines at speeds approaching cable.
Assisted GPS.
Application programming interface is often offered by companies to allow third party developers to create programmers which link into other systems.
Application Service Provider.
Automatic Vehicle Location is provided by companies such as AutoAlert to help people monitor, protect and better manage their vehicles.
A short-range wireless radio technology that aenables wireless devices such as mobile telephones and accessories to connect to each other.
A wiring network within most new vehicles which connects all the electronic devices within the vehicle.
A digital communications technology (code division multiple access) for mobile telephones.
Differential GPS which is augmented by ground based signals.
Digital Enhanced Cordlesss Telecommunications is a way of transmitting voice traffic for domestic phones and some business phones.
EDGE is an enhanced way of transmitting data over GSM networks at up to 384Knpt.
Electronic Data Interchange.
Enhanced observed time difference is a way of synchronising signals for GSM positioning.
Enterprise Resource Planning System.
The European Telecommunications Standards Institute is responsible for agreeing standards.
FMS-Standard is a system drawn up by Truck manufacturers to provide standards governing data formats for capturing and exchanging information on vehicle systems and particularly for passing it over on-board CANbus networks.
Geographic Information Systems.
The Global Positioning System is a network of 24 satellites based on the US governments network. By using the signals transmitted by these satellites, the position on the earth can be calculated by systems such as AutoAlert.
General Packet Radio Service or 2.5G allows for faster data transmission over the GSM network. Data transfer speeds range from 56Kbps to 115Kbps. AutoAlert uses GPRS to transmit real time information about vehicle movements.
Global System for Mobile Communications is the technology behind the 2.0G network. GSM can be implemented in 900MHz, 1800MHz or 1900MHz.
Hypertext Mark Up Language is used for programming web pages.
Ingress protection is a rating system developed by the International Electrotechnical Commission to describe the ability of electronic products to withstand gas, dust, water and overall dirt penetration. The higher the number the better the protection.
IP also standards for Internet Protocol.
Infrared Data Association is a protocol for sending infra red data between two devices.
Integrated Subscriber Digital Network allows data transfer rates of 2x64Kbps It has now been widely superseded by ADSL.
Internet Service Provider.
JAVA is an object orientated programming language developed by Sun Microsystems. It is ideal for network applications and applets as it is operating system independent.
Local Area Network.
Location Based Services include such services as AutoAlert's vehicle tracking systems, Multimap's mapping systems and location based advertising.
Mobitex is an open wireless networking standard used especially for data transmission. It can operate at 80MHz, 400, 800 and 900 MHz (usually 400MHz in Europe). There are over 30 networks operating in over 22 countries with Transcomm being the UK system. The copyright is held by Ericsson.
Open Database Compliance is a way for programs to connect to Databases.
Personal Digital Assistant are basically a scaled down computer which allows for computing on the move. PDA's with internet access allows fleet managers to see the location of their vehicles whilst out in the field themselves.
Private Mobile Radio is a licence free short range radio technology operating between 446.0-446.1 MHz.
Private Virtual Networks are used by Businesses to create a secure private network over the public internet.
Radio Data System – Traffic Message Channel is used to convey real time traffic information and radio station information to FM radios.
Radio Frequency.
Radio Frequency Identification is a very cheap and short range communication system which allows such things as the tracking of palettes and the identification of drivers using a small card.
Remote access server.
A Sim is the small chip which goes inside most mobile phones and tracking units and contains information about the subscriber. SIM stands for Subscriber Identification Module.
The Short Message Service is a system used to transmit short text messages up to 160 characters long on GSM networks. It was originally used by mobile phone technicians using spare capacity but has grown in popularity wtih billions of messages sent per week. AutoAlert uses SMS to send proactive alerts to customers and to send messages to and from units as a back up to GPRS.
Terrestrial Trunked Radio is a land based mobile radio communication standard.
Time Division Multiple Access is a way to send digital data over systems such as GSM at high frequency.
Traffic Message Channel.
The Universal Mobile Telecommunications System is the European third generation cellular mobile standard also known as 3G. UMTS is the overall system whilst W-CDMA is the technology behind it.
Wide Area Network.
Wi-Fi stands for Wireless Fidelity and is a brand name adopted by the Wi-Fi Alliance which currently has over 200 members. The Wi-Fi alliance promotes 802.11 local area network specification and asserts compliance with it.
Wireless local area network.
Warehouse management system.
Voice Over Internet Protocol is a way to transmit voice data over the internet.
A virtual private network is often used by companies to set up a private network over a public system such as the Internet.
Extensible Mark Up Language is a flexible programming language which is used by companies such as AutoAlert to exchange data with other systems such as Google.
Wireless Application Protocol first allowed the internet to be viewed on mobile telephones. AutoAlert uses WAP to provide vehicle location information to basic mobile telephone.
Wireless Virtual Private Network. As VPN, just wireless.
A digital communications technology (code division multiple access) for mobile telephones.
Wider Wireless Area Network.
Thanks to the Telematics and Mobile Data Guide 2008 for some of the information on which this guide is based.
With high fuel charges and not enough time in the day, our customers often ask how they can easily see where their drivers are in order to more affectively allocate jobs.
With AutoAlert's new search function you can easily now search for an address from the radar screen and get a pop up showing that location – anywhere on earth. You can get directions from that location, zoom in and out and most importantly, get your nearest three vehicles by route mileage and time.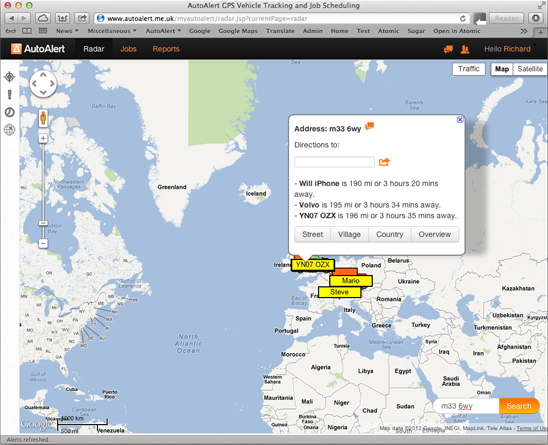 You can then send the right jobs to the right person, send them messages or directions and combined with the AutoAlert suite of reporting tools, ensure you are minimising mileage and fuel costs and improving your business.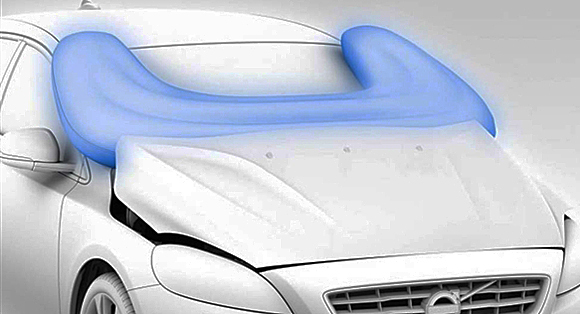 Whether it's the latest GPS system, or most advanced in car entertainment, we at Auto Alert are unreservedly car tech geeks. So it's edifying when we come across a story that looks likely to make a real difference to the lives of road users.
Volvo has often been selected as the family favourite when it comes to high technology and in-car safety. However, news just in from Volvo is that they are also concerned about safety on the other side of the bonnet, on the outside of the car. This means making pedestrian safety more important.
With this in mind this Swedish car manufacturer has developed an external airbag so that any pedestrian or cyclist who may be hit by the vehicle in an accident, will have the impact cushioned.
Of course, it will only be a matter of time before the technology is taken up by other manufacturers. Hardly surprising when Volvo reckon the air bag could save lives in 85% of accidents which would otherwise cause fatality.
Volvo fit a series of sensors to the front bumper and these can detect how hard an object is in a crash situation. If the sensor records the object is soft like a human limb and the car is travelling between 12 and 31 mph, the air bag inflates and will burst through the bonnet of the car, covering the windscreen. This would then help prevent a pedestrian's head from hitting the windscreen and metal surround. In addition the bonnet would be lifted up by 4inches which would create a cushion above the engine.
They have also developed a pedestrian detector system that can recognise when a person is in the road immediately ahead or about to step into the path of the car. In this case an alarm sounds, the driver is alerted and brakes automatically applied if a crash is unavoidable.
As Thomas Broberg, Volvo's senior safety advisor commented: 'We believe this can substantially reduce the number of serious injuries sustained by pedestrians.
If the speed of the vehicle is reduced by the automatic braking from 40mph to 30 mph, allowing the airbag to inflate from under the bonnet, it's easy to see the possible effect. The two devices used together could significantly reduce pedestrian casualty rates.
Duncan Vernon of the Royal Society for the Prevention of Accidents stated: 'the introduction of vehicle technology, such as seat belts and airbags, which reduce the severity of injuries to car occupants is one of the success stories of road safety.
'However, there is potential to improve vehicle design to improve protection for vulnerable road users who are struck by vehicles, and we welcome technology which does this.'
When one thinks how ubiquitous GPS is, the deployment of even more advanced technology and the difference it could make to the safety of motorists is considerable.