Check out our GPS vehicle tracking demo to see how AutoAlert can help you see where you're vehicles and engineers are, respond proactively to customer queries and reduce your costs through reports such as working times, driving times, mileage, stationary times etc.
Check out our quick demo video which gives a brief introduction to our web and mobile based GPS vehicle tracking application.
https://youtu.be/E8XpigUgPjw&rel=0&w=560&h=400&showinfo=0&theme=light&enablejsapi=1
Find out more about AutoAlert GPS Vehicle Tracking or Sign up to AutoAlert.
With AutoAlert you have a number of options to determine how your GPS devices are shown on the radar screen. You can then devices automatically center on the map when the icon is clicked or if you prefer, you can leave the icon where it is.
To turn device centering on or off, click the devices icon and then select Turn centering on or off (depending on what option is currently selected).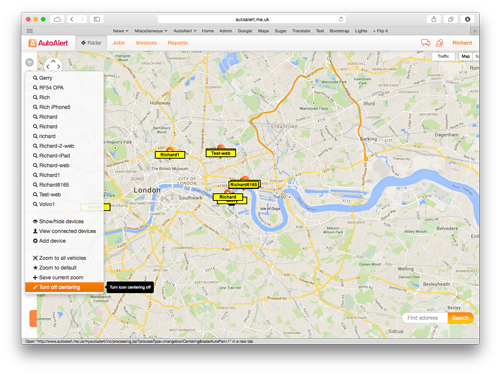 If device centering is switched off, and you click on a device which is near the border o your screen, then you can still easily center the icon by clicking on the center icon () from the device pop up.
We've added in a new report which shows you the latest activity for all your devices.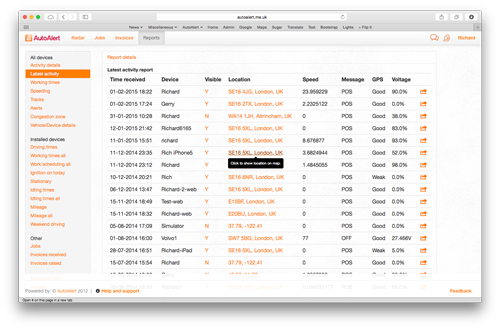 The report shows you the latest message that have been received from each of your GPS devices so you can see at a glance the what is happening with your vehicle and engineers.
The report includes the following information:
Time the message was received
The device
Whether the device is visible, or not
The latest location
The speed the device was travelling
What type of message the device sent
Whether it has a good GPS signal or not, and
The devices power
You can also click on the more icon (

) to get the current day's activity report for the device.
Find out more about AutoAlert GPS Tracking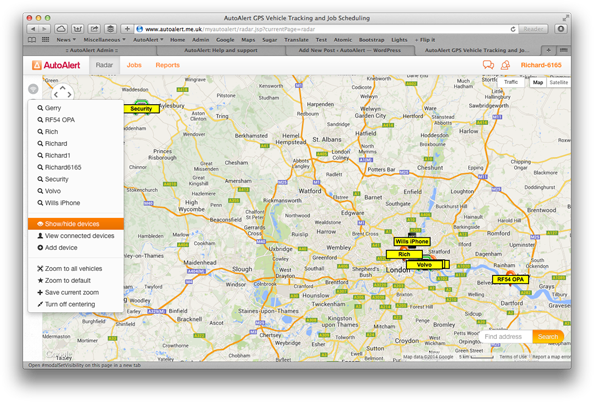 AutoAlert GPS Tracking allows you to show or hide your vehicles on the main radar screen and within the iPhone monitor app.
As the radar screen automatically optimizes the zoom level to make sure all your vehicles are in view, hiding those vehicles which you don't want to track means its easier to see what your other vehicles are doing.
Your vehicle may not be working, your GPS tracking device may be switched off or it might be spare. Therefore being able to hide that vehicle or GPS device is important so that you don't clutter up your screen. This is especially relevant when you have a lot of vehicles which you are tracking.
How to show or hide your vehicle from the radar screen
To hide one of your vehicles, simply complete the following steps when logged into the AutoAlert website:
Go to the radar screen
Click the devices icon ()
Click Show/Hide devices (see screenshot above)
Click the check box next to the relevant vehicle or GPS Tracking device to either show it or hide it from the radar screen
Click update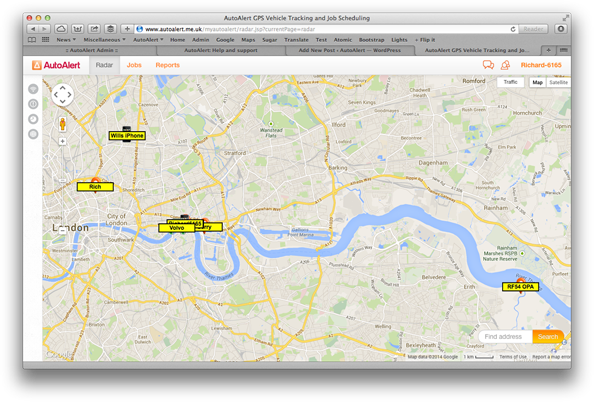 Result: The relevant vehicle will be either shown or hidden from view. In this case, the vehicle marked Security was originally shown but was then hidden. This meant that the radar screen automatically zoomed to the remaining vehicles.
Note: Showing or hiding your vehicles will also affect their visibility when logged in to the mobile version of the site or when checking your vehicles location on the AutoAlert Monitor iPhone app. If you're sharing your vehicles locations with your connections, then hiding the vehicle on your screen will also hide the vehicle for your connection.
Smarter driving helps cut CO2 emissions (and reduces fuel bills). We can all do our bit to reduce CO2 emissions, says the Department of Transport.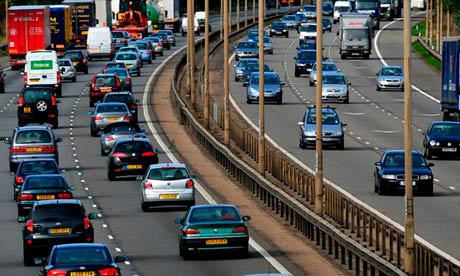 Pump up to cut down
Under inflated tyres create more resistance when your vehicle is moving, which means your engine has to work harder, so more fuel is used and more CO2 emissions are produced. Simply check and adjust your tyre pressures regularly and before long journeys. This will also help to increase the life of your tyres. Under inflated tyres increase CO2 but over inflated tyres can be unsafe so check your car manual for the correct tyre pressure. Remember, a car with a heavier load may need different air pressure in the tyres.
Lose weight
Less weight means less CO2, make sure you are only carrying what is needed for the journey
Less speeding
Driving at an appropriate speed reduces CO2
Speed limits are the maximum lawful speeds which may be driven in ideal circumstances. Drivers should never exceed the speed limit. Staying at or within the speed limit increases driver safety. It also reduces CO2 emissions and saves money on your petrol costs. At 70mph you could be using up to 9% more fuel than at 60mph and up to 15% more fuel than at 50mph. Use the AutoAlert speeding report to check for poor driving.
Less stops and starts
Check the AutoAlert stationary report for frequent stops which may not be needed. Less stopping and starting means less CO2.
Every time you stop then start again in a traffic queue, the engine uses more fuel and therefore produces more CO2. Keep an eye on the traffic ahead and slow down early by gently lifting your foot off the accelerator while keeping the car in gear. In this way, the traffic may have started moving again by the time you approach the vehicle in front, so you can then change gear and be on your way.
Less revving
Over revving accelerates emissions. Modern vehicle engines are designed to be efficient from the moment they are switched on, so revving up like a Formula 1 car in pole position only wastes fuel and increases engine wear.
Using your gears wisely by changing up a gear a little earlier can also reduce revs. If you drive a diesel vehicle try changing up a gear when the rev counter reaches 2000rpm. For a petrol vehicle change-up at 2500rpm.
Less idling
Idling is wasting fuel. When the engine is idling you're wasting fuel and adding to CO2 emissions. If you're likely to be at a standstill for more than 3 minutes, simply switch off the engine. Check the AutoAlert idling report for any vehicles idling for more than 5 minutes. In an LGV, this could also save you up to a litre of fuel an hour!
(c) Department of Transport. For further information, visit the Department of Transport website.
Find out more about AutoAlert GPS Tracking Software and how it can benefit your business.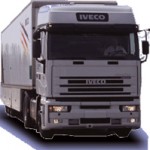 AutoAlert will be exhibiting at this year's CV show on stand 18-443.
The system allows fleet managers to check the use of vehicles whenever and wherever they want – improving customer service, reducing costs and increasing revenue.
There is no expensive central monitoring station to use the system, – it only requires installation of a small tracking device in each vehicle. Installation is quick and easy and no training is necessary; the system is remarkably easy to use.
AutoAlert is also suitable for individual use, for owners of cherished classic cars or motor-homes, and offers three main solutions –
Subscription free vehicle tracking for individuals or small fleets
Tailored real-time tracking and reporting for fleets of all sizes
Bespoke solutions tailored for more complex requirements
Tracking information is accessible via a mobile phone as well as by any computer with an internet connection. "Users simply log on to the AutoAlert tracking site and are ready to go. Supervisors and managers can see at a glance where every vehicle is and drivers can use maps when they need directions or can't find an address," explains managing director Richard Harris.
"With AutoAlert you are alerted immediately if any vehicle is moved without the keys in the ignition, if the vehicle is tampered with or there's any attempt to drive the vehicle without authorisation. It can even let you know when a vehicle's battery is running low."
Media Information
Benefits of the AutoAlert System include:
Supervisors and managers can spend more time in the field
Awareness of where every vehicle is 24 hours a day
Cost effective for fleets of any size
Detailed management reports
Easy and convenient to use
The biggest impact that AutoAlert systems offer to supply chain operations is the ability to find vehicles and know how long they have been on the road, at the click of a button. For haulage companies this means drivers' working hours can be monitored to comply with regulations and potential stopping points are clearly visible.
Other customers who can benefit are courier and delivery companies who can give much more accurate delivery times to customers, ensuring better customer relations.
Rather than concentrating solely on the latest technology, AutoAlert concentrates more on making the best use of the technology at hand. There are many products on the market today which all claim to offer similar services, the unique point about AutoAlert is that it offers several services in one easy to use package. The technology behind them is complex and the trick is turning this complex data into a program that can be very easily used.
Find out more about AutoAlert's award winning GPS Tracking Systems.