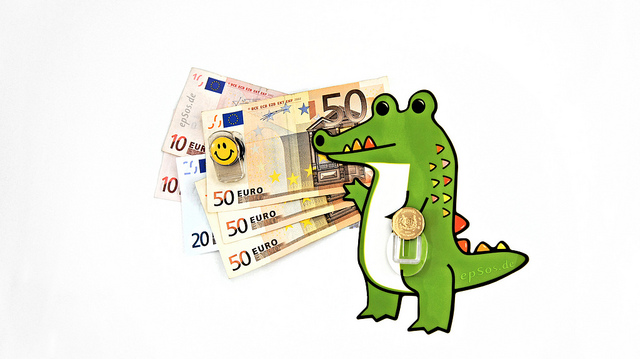 As the owner of a busy electrical contracting business, getting paid on time is nearly always the biggest bug bear. Late payments, or worse, missing payments can have serious consequences on cash flow, and has even been responsible for the demise of small businesses.
The problem
When we speak to electrical contractors, about the challenges of running a business, eliminating or reducing the paperwork is on the wish list of every business owner. In fact, the paperwork can be such a challenge that any non-essential paperwork can quickly become lost or passed around from pillar to post in the hope that someone will deal with it.
The issuing of invoices is one such problem. Electricians are telling us that invoice problems range from no sending one at all (no invoice, no payment!) to not chasing up late payers and having no system in place to make sure payments are received on time.
The Solution
Cut out some of the paperwork, cut your printing and postage costs and send your invoices electronically. A system that works well in the electrical industry is to send the invoice to the customer upon completion of the job. It takes just a few clicks of a button to email the invoice straight to the customer before driving away from the job. This ensures that invoices are sent on time and is not down to one person to find time every month to send each and every invoice manually.
When managing a remote workforce it is important that an effective invoicing software program is in use to make sure employees actually use it – the two basic functions will be usability and speed.
What to look for in invoicing software
A simple reliable system that is easy to use is vital. It needs to be easily accessible by all your employees so that they actually use it. Never be tempted into free downloads. Not only are these rarely updated, but they can be full of bugs and errors and can actually cause more harm than good.
You need to make sure the software that you chose to use is supported and does what you need it to do without any costly useless features. Look out for:
A Customer database – so you can easily find customer details – no more searching for email addresses on scraps of paper!

Autofill features – sending documents should be possible in a few clicks

Integration with an accounting platform – to save time on HMRC returns

Alerts to flag late payers so that the appropriate chase up methods can be deployed.
Streamlining your invoicing function makes sense and will save hours of manually completing book-keeping statements.
Above everything else it will save you money and improve workforce management.
Like this blog content and want to hear more from us? Be awesome and sign up!
Or connect with us on Twitter @autoalert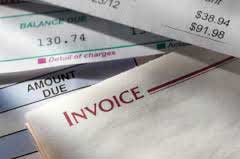 When it comes to small businesses and freelancers, customers tend to get away with delayed payment and sometimes even with non-payment. Whether said customers are individuals receiving your services in their residences or big companies hiring you to work on their commercial premises, delayed payment is a fact of life for many SMEs.
Customers often do not care or even understand that small businesses work with a very small margin, and hence need to have their payments cleared within the stipulated period. This is borne out by the fact that two-thirds of the monthly expenses of SMEs is spent on going after debtors and trying to collect payments.
Data from BACs Payment Schemes Limited show that more than £8 billion is spent per year for this purpose, and around one-fifth of company directors end up having to take a salary cut to balance this cost.
SMEs are by definition small companies operating on very thin margins. The highest burden of non-payment such a company can take before collapsing would be around £50,000, while many companies cannot handle outstanding debt of more than £20,000. When the average rate of late payments is about £32,000, you can see why this is a huge problem and can have a severe impact on the economy.
But just because customers are accustomed to pay late, it does not mean that you cannot do something about it. Though this is a risk most business owners take and account for, it is important to have some rules in place to minimise late payments and to make sure that you know what steps to take if there is a payment problem.
Inform yourself
There are laws to protect small businesses from going under because of delayed payments. It is important for you to inform yourself about these laws and seek ways to cut the impact of delayed payments. You can charge interest and claim debt recovery costs from the customer. All these laws are for your convenience and protection, so know them and use them to your best advantage.
Automated payments
Encourage your customers to set up direct debit with your company. This should prevent any problem of delayed payment from arising at all. Once the work is done, the payment will be made. Electronic payment also ensures that the funds are transferred right away and you will receive them far sooner.
Automate your process
You should also look to automating your processes. Job management software allows you to create your invoices from your job as soon as the job is completed, you can raise your invoices directly or export them to an accounting package. This helps make sure your invoices go out straight away and enables you to track them so you know when they have been paid or when they are being delayed.
Ask for an advance
If you are undertaking a task that would cost more than a nominal amount, insist on an advance. You could charge 25% or even 50% of the total amount. This should help in taking care of your immediate expenses, and you are also confident in the knowledge that at least part of the payment is already done.
Rely on credit checks
Many companies do run on credit. But before giving credit to your customers, make sure you know how credit-worthy they are. Check out their credit reports from the Companies House or from a reference agency. Based on this, you can set a credit limit, both in amount and in time, for your customers. This will put you in control of outstanding payments and you can decide when to cut the credit.
Send reminders
It is important to show your customer that you take your payments seriously. Send the reminders just before the payment is due. In cases of delayed payment, do not hesitate to contact your customers and politely demand that your account be settled right away. You can remind them that you will charge interest on late payments. For these reminders, a phone call is always better than an email or a letter.
Networking
Keep on good terms with your customers. If your customer is a company, it is a good idea to network with people in the accounts department. Such networking will make sure that in times of difficulty, your payment will be the first to get cleared.
Reward prompt payers
Try to offer incentives for those who pay on time without any fuss. If your customers know that prompt payment comes with its own rewards, they would be more inclined to make the payment right away. This kind of positive reinforcement works wonders and helps in solving the problem of delayed payments.
Find out more about Okappy job management software and how it can help ensure you get paid on time.
A lot of customers use AutoAlert Job Management as it helps them cut the number of missed or disputed invoices.
Disputes often arose when a customer thought an engineer was on site for less time than quoted. As engineers would often fill out all their job sheets at the end of the week, it's understandable that on some occasions the exact times they entered or left site could be forgotten.
AutoAlert job management not only makes it easier for your engineers to update their jobs on site with the click of a button, you can also view an audit trail showing the exact time and location when a job was updated.
Following is a quick guide of how to enable and view audit trails.
Saving locations and timestamps when jobs are updated
To save the location and timestamp for your engineers when they update a job, click on the connections icon (

) at the top right of the screen. Then
Select View Connections
Select Employees
Click on the name of the employee who you want to provide location and timestamps
Scroll to the bottom of the page and click on Employee settings
Ensure the Save location and timestamp when job is updated check box is ticked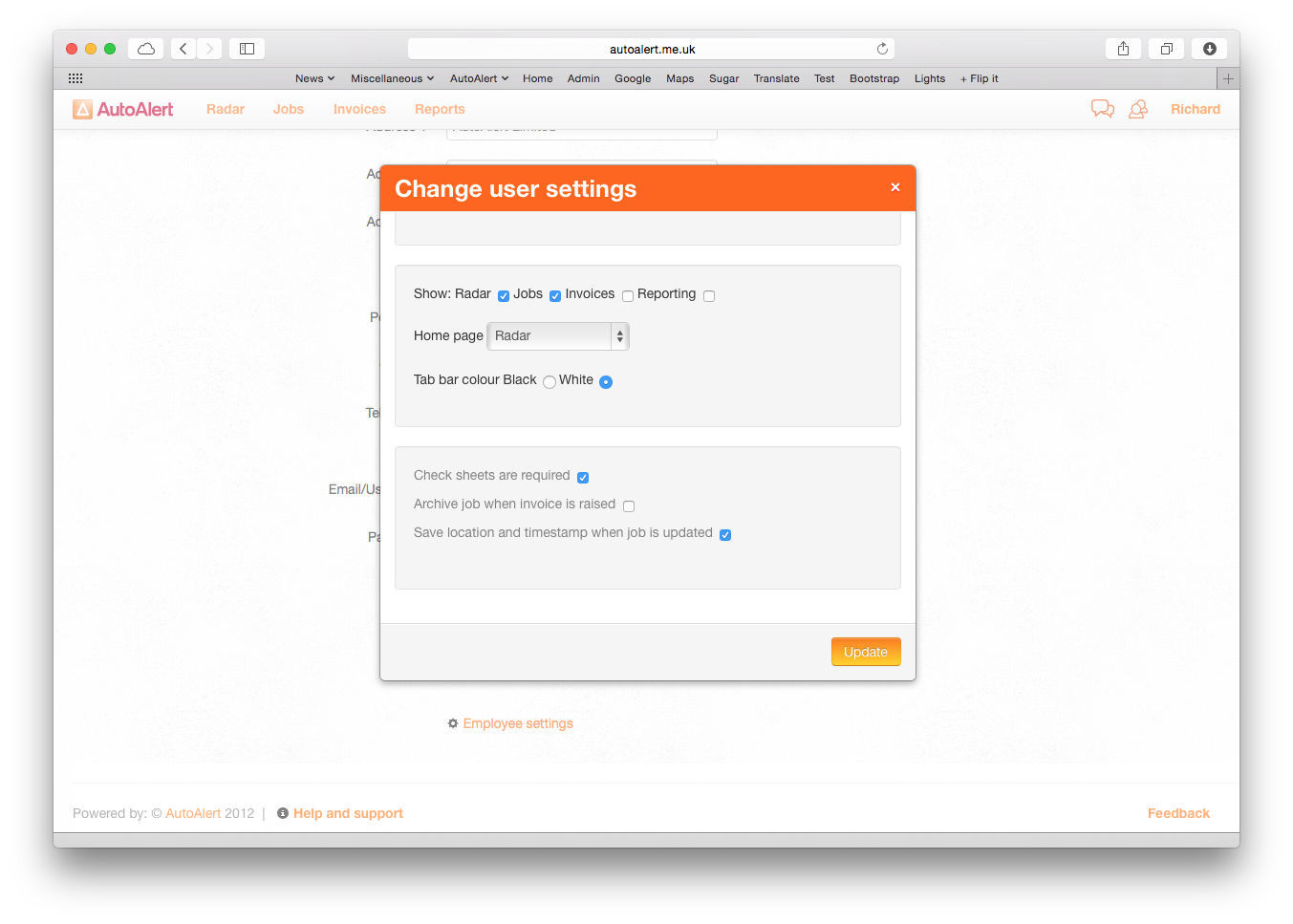 View your job management change log
To view the time and locations for each update to your job. Simply
Click on the More details icon (
Click View/Edit/Update job
Scroll to the bottom of the job details page
Click View change log
The following window will be shown displaying each action for the job and the time and location the action was performed.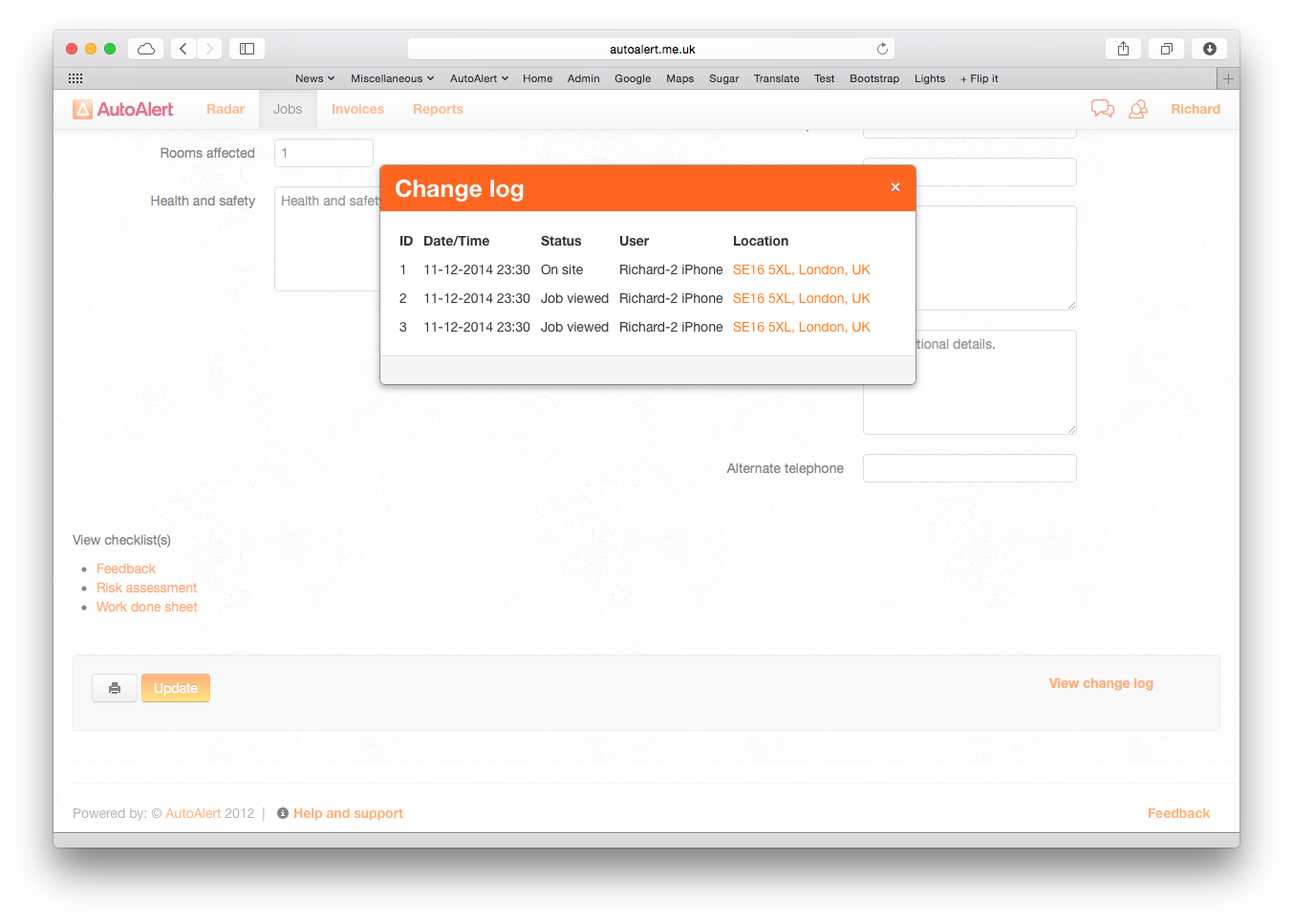 You can click on the location to view it in Google Maps.
Conclusion: No more disputed invoices
With an audit trail for each job, you can have more confidence that the times you have quoted on your invoices are correct. There's no more risk that the time has been overestimated because your engineer hasn't filled in their job sheet until hours later when they're at home.
Using AutoAlert's iPhone or Smartphone app is also easier for your engineers. With one click to update a job there's less administration for them and no reason to find downtime in their week to update all their job sheets.
Alternate ways to see when an engineer has entered or left site
With AutoAlert GPS Tracking, you can also see various reports such as the stationary times report and driving times report which show the start and stop time and location for your vehicles and engineers.
You can also set up virtual areas and get alerts around your customers' location and then get alerts when one of your engineers enters or leaves that area. This is also useful to help with your duty of care towards your remote workers.
For more information see:
Or find out about AutoAlert's job management software and how it can cut your paperwork.
With AutoAlert, you can easily raise invoices from your jobs or create a miscellaneous invoice. But what if you've made a mistake on your invoice and need to either cancel it completely or amend the amount.
To cancel or amend an invoice, the easiest way is to select your existing invoice and then click copy invoice.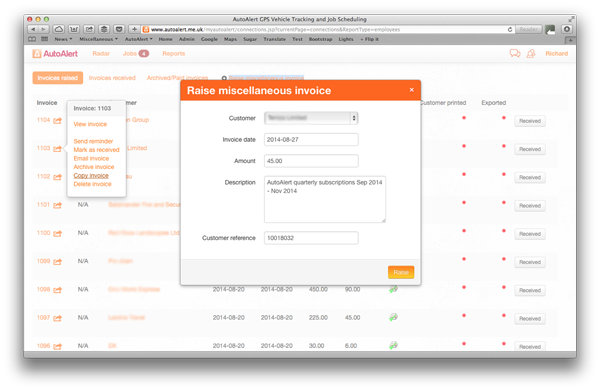 This will create a new miscellaneous invoice with the same details. You can then either change the amount to negative to offset your original invoice or add a different amount to either reduce or increase your existing invoice.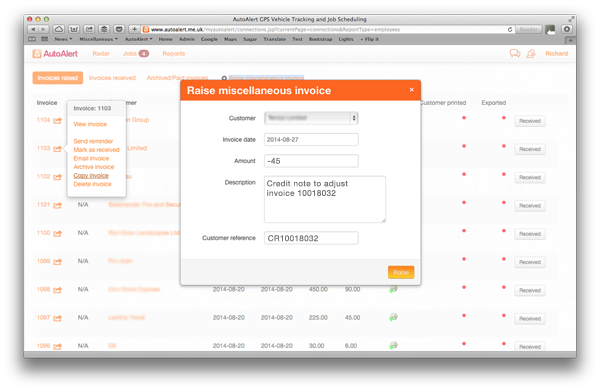 You can also change any of the details in the description to make it clear that this is a credit note.
Find out more information about AutoAlert Jobs Management and how it can be benefit your business.