AutoAlert features in Google Campus Spotlight newsletter, July 2014.
AutoAlert's Director, Richard Harris was recently featured in an article for Google Campus Spotlight. An email newsletter which Google Campus sends out to thousands of companies of various shapes and sizes who use Google Campus as a place to work, a place to meet and a place to learn.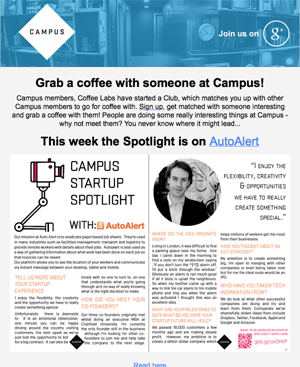 Richard discussed the history behind AutoAlert, how we started with an innovative way to connect your car to your mobile telephone and get alerts if your car alarm is activated. And how we went from these humble beginnings to a company offering simple yet powerful GPS Tracking software to over 18,000 haulage, transport and logistics and security companies.
Richard also talked about the latest iteration of AutoAlert's award-winning software – Job Management and Instant messaging which helps companies improve their own business, cut paperwork and better manage their jobs through our Jobs.
Find out more about our simple solutions and how they can benefit your business.
The European Business Awards is looking for innovative business models that can be exported and used as a reference by other companies.
At AutoAlert, our approach to job management is simplicity and innovation. We're helping our customers reduce duplication, reduce administration and improve clarity over their business by eradicating paper based job sheets and delivery notes and replacing them with our simple, mobile phone and web based job management system.
We're learnt from other leading companies such as Dropbox and Twitter and we believe that what we're doing can be used as a reference for other companies as well.
The following highlights why we believe our approach to job management is innovative and disruptive to the existing status quo.
AutoAlert and the sector in which we operate
AutoAlert provides a social networked platform which enables companies to connect to their customers and suppliers, manage their jobs and share the status of those jobs and invoices with everyone involved.
With AutoAlert you can also monitor your vehicles and communicate with your staff and suppliers from your desktop, tablet or mobile telephone.
AutoAlert aims to reduce the paper based job sheets which are used in the many industries which use remote workers. This includes electricians and plumbers, facilities managers and transport and logistics companies. In the UK alone there are over 900,000 field trade companies and around 14 million in Europe and North America.
Paper based job sheets are used in these industries to send information about each job to the final engineer and to get information back about what was done on the job in order that invoices can be raised.
This process is laborious, involves lots of duplication, especially as more subcontractors are involved in each job and is opaque with no one knowing what is happening with the job until the job sheet is returned.
What have we achieved over the last 18 months
Key achievements
We've developed a networked platform from scratch
We've improved security, server management and performance which is especially opportune given the recent publicity surrounding the heartbleed virus.
We're developing our online media campaign.
We continue to make improvements to our on-boarding process ensuring our software is easy to understand and easy to use.
AutoAlert has been present at industry events and are networking with other companies and potential customers.
We now have over 18,000 customers using the system. 5,000 jobs have been processed and over a million pounds worth of invoices have been raised by our customers.
The advantage that we have gained relative to the competition
In the past, job scheduling was the preserve of large companies using complex systems from the likes of SAP and Oracle. With the advent of smartphones, new companies such as GeoOp and vWorkApp have entered the market offering more simple job management applications using mobile telephones. This has opened up the technology to smaller customers who are lacking the skills and resources which are available to their larger competitors.
AutoAlert offers a simple, mobile phone based job management system. However, where it is different, is in the connected nature of the system.
Other applications work well for individual companies but fall down when companies get jobs from their customers, or when they pass jobs on to their own subcontractors.
Large companies are also let down as they cannot force their subcontractors to buy into the same systems they use. Consequently, they do not have visibility over the status of the jobs done by their subcontractors.
With AutoAlert, each company can connect to their own customers and subcontractors. Everyone's aware of the status of their jobs as they're updated by the engineer on-site. There's no chasing people to find out what is happening, and information is more readily available meaning queries can be escalated immediately rather than weeks later when the information may have been forgotten.
With AutoAlert you can also raise your invoice as soon as the job is complete and see whether your customer has viewed and paid your invoice in real time.

The connected nature of our system creates massive value for our customers. It also creates value for us as our customers become our salesforce due to the massive value inherent on inviting their own customers and suppliers to connect.
Our key innovations
We've developed a "blue collar social network" allowing companies to connect to each other, send and receive jobs, then monitor and share the job status as they're updated in the field by the engineer on their mobile phone.
Unlike existing paper based processes which are labour intensive, involve duplication, especially as more subcontractors are involved in the job and is opaque (no one knows what's happening until the job sheet is returned), AutoAlert provides clarity over what is happening as it happens, thereby reducing anxiety, reducing time spent chasing employees and increasing time available for other tasks.
Key strategies and tactics we've used
The development of our job management platform has been achieved through close collaboration with our customers.
Initial inspiration was provided by our customers who liked our simple to use vehicle tracking solution and realised that we could do something similar to reduce the cost of managing their jobs. We have worked closely with our customers and have built a culture with them where they can feel open to come to us with comments and suggestions.
This culture was created over a long term through periodic communication with our customers and by us being open and available. Even where a customer has telephoned us with a problem, we have thoroughly investigated it, kept them informed of what we are doing and then made changes as quickly as possible.
This openness is the key message we've always tried to portray to our customers. We have also used technology such as instant messaging from within the AutoAlert system to make it easier for our customers to ask questions and provide their suggestions, and for us to respond back in a clear and timely manner.
We also periodically sit down with our customers to see how they use AutoAlert. This provides further insights and ideas for improvements which may not be evident in just a conversation or email from our customers.
We're also very keen to learn from other companies. In particular we've looked at how companies like Dropbox, Twitter and Facebook have scaled and grown their user-base. How they've developed the networking effect of their products and how they've "hacked their way to growth"
We've learnt from this and used similar ideas within our own product development. This ultimately led to the innovative and connected nature of our platform which differentiates us compared to the more standard "single company" approach that our competitors have followed.
We believe we are innovative and remarkable due to the lessons we've learnt and the unique way in which we've structured our business and product in order to positively disruptive how many small business currently run their day to day operations using inefficient and opaque processes based around paper based job sheets. By reducing our customers stress and anxiety and by providing them with the tools to grow and develop their business we believe we can make a massive change to the many industries who used remote workforces and we believe we can achieve so much even with such a small team.
Find out more about AutoAlert's job management software, and how it can benefit your business.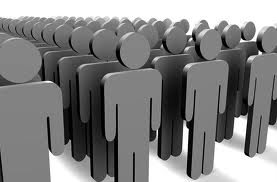 One of the most well known and effective ways of attracting as much traffic as possible to your website is by article marketing.
To do this properly, you will need to optimize your articles and blogs and know which sites are the most Google favoured, where you can submit them. Uploading blogs to your blog page is fine, providing you optimize them but this strategy alone creates only fraction of the search engine power you could be getting.
It is also an excellent idea to create optimized links from your articles back to a relevant blog and to another respected article site where possible. By creating back links from article sites that rank high, you will be boosting the traffic from the search engines and increase ranking. This takes time to achieve and you might want to find a skilled SEO copywriter to do the job for you. Research your keywords and check against density and frequency, then insert them into the blog layout and writing. Some of the tricks to use are:
1. Keywords insertion
Use several keywords within the first paragraph of your blog post then spread them evenly throughout the remaining post. Avoid stuffing them in which will dilute the content. Your blog may also be picked up as spam.
2. Links and keyword placement
Create links within your text to win more engine juice, and increase your ranking as this carries more power than mere keywords alone. Insert relevant keywords as close as possible to these hyperlinks within your blog posts, but don't overdo it.
3. Optimize the title
By using keywords in your blog title, you can help the optimization process. However, your blog is written for people not engines so there's no point doing this if it means a title that doesn't motivate people to click through and read your article.
4. Social media
Encourage others to comment, leave a review, bookmark or retweet from the various social media platforms. People love to talk and this people power will give an enormous boost to your ranking when they too create back links to your post.
5. Use keywords in image Alt-tags.
An image is a great way to attract attention to your blog. When you have uploaded your chosen image, insert what is known as an Alt tag (alternative text). If a reader cannot load your image in their web browser, alt text acts as an alternative. To get the best from alt tags, add keywords that relate to the published image. Alt tags appear within the HTML of your blog post copy so when search engines send out their 'spiders' they can get to that alt tag and use it to deliver a result to the searches.
Many SEO copywriters will do all this for you and it's worth asking, especially when it frees you to concentrate on what you do best.
Meanwhile, hope you find this blog useful; be good to hear your thoughts…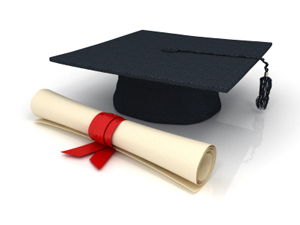 I reckon I owe a large chunk of my success as an entrepreneur to my good old college days at Cranfield School of Management. Yep, up near sunny Manchester. In fact, I often wonder if AutoAlert would have launched in quite such a rocket like manner if it hadn't been for Cranfield. Or maybe it was due to the spot of homework I did before enlisting. As it happens, before deciding on Cranfield, I had visited a number of top business schools. Some of these I tossed aside because of the structure of the course, and others due to the culture of the university (and, you've guessed, my impressions of the culture of potential students).
Anyway, I decided that Cranfield was a modern, well equipped university, far enough from London 'to get away' but close enough to get there easily. Perfect. I soon discovered it had an excellent reputation and was well equipped with good tutors. I also found the other potential students interesting, experienced and friendly. Great for non lecture days when you've just got to be happy with people you're going to spend 2 intense years with.
Suffice to say, it was the emphasis on personal development at Cranfield that really had significant impact and I have to say made my experience immensely enjoyable.
Don't get me wrong, it was intense hard work but hey, fulfilling. I also met some very interesting people. I've made some long term friends actually, and built a strong network. In short, Cranfield gave me the confidence to fulfill an ambition: setting up my own company.
First I went into investment banking; now I am the founder and director of a young award winning company, AutoAlert. My company is at the forefront of location based technology.
Now, as I had already undertaken a lot of courses as part of my banking career, I wasn't looking to learn too much theory at Cranfield. However, I was keen to develop the soft skills, team dynamics, management, presentations and personal development in general. Very quickly I gained the confidence to really do what I wanted, which had huge benefits both at work and later when I set up AutoAlert. Cranfield really transformed my career path.
Put it this way, I went from earning a lot of money in an investment bank to getting minimum wage in various jobs, including telesales for an insurance company. Now that's what I call transforming. Still, I am way happier now and see a real future in my company; In other words, I'm doing okay. AutoAlert has already gained over 14,000 customers and achieved a number of awards. Not bad.
Anyone else had really good college days?