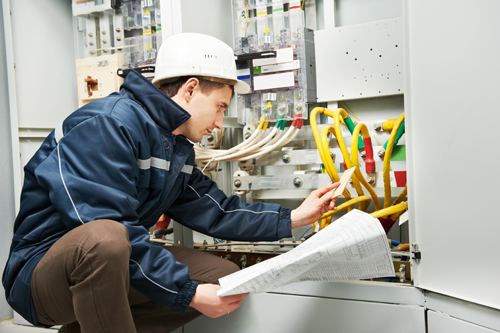 We're continually speaking to our customers, finding out what works for them and what doesn't.
With the release of our new job management software we wanted to understand what drove our customers to invest in our job management software.
Following is the top 5 reasons our customers gave for wanting to automate their job management process and move away from paper job sheets or cards.
1) Missing, late or incorrect invoices
This is one of the biggest drivers for our customers. With lots of paperwork it's too easy to forget about an invoice.
With handwritten job sheets, if information is ineligible it may lead to disputes or complaints and if you're waiting for your job sheets to come back from your guys, then this can lead to delays in getting your invoices sent out and ultimately paid.
This is often a direct cost to the bottom line and one of the first things that can be eradicated by moving over to a paperless job sheet system.
2) Not enough time in the day
In the past, customers would often spend more time doing paperwork than running their business.
Several hours each week would be set aside just for paperwork. Whether that's writing out job sheets and given them to your guys, whether its your guys having to fill out their job sheets at the end of the week or month or whether you're then having to collate the information and input it into your accounting package, it all takes up valuable time.
This is time which could be better used on other things, whether that's building the business, training for your guys or even freeing up more time to spend on the golf course!
3) Forgotten information
We were finding that a lot of guys would fill in all their job sheets in one go, typically at the end of the week or month. The problem with this is that information is not fresh and is often forgotten. If there's a dispute later on, there is no backup available which often led to invoices being cancelled or reduced.
4) Better employee relations
Having to continually chase employees for job sheets is not only time-consuming and stressful for you but it can cause tension in the team.
By automating the process, everyone knows what is happening in real time. There's no more arguments and a lot less anxiety trying to find out what is going on with each job.
5) Better customer relations
If the customer has to ring you to find out what is happening with their jobs, if you don't have the information to hand then this can also lead to poor customer service and disputes.
We often saw customers having disputes with their own customers as they thought an engineer was on site for less time than they billed for.
Find more about Okappy job management software and how it could benefit your business.
AutoAlert Monitor helps you manage your business
See where you're vehicles are
Update your jobs on site
Reduce your paperwork
Improve communications
Cut costs
Fixes and enhancements for this version include:
Following your suggestions we've made quite a few changes and improvements to make managing your jobs and remote workers even easier.
You can now add a note for each job which is for internal use only.
This enables you to review what your engineers have written first and take out any gibberish they may have written. Once it looks professional and presentable, you can include the details on the final job sheets or invoices to be sent to your customer.
You can add attachments such as photos and documents to the job at any time, not just when the job is complete.
You can also add images and documents when you first create the job on your computer and then view the attachment when doing the job.
We've added some extra email checks to the initial welcome screen to make it easier to sign up with newer email domains such as .London.
As always, thanks for your comments and suggestions. Your ideas are always welcome.
We've also made a number of improvements to the web portal as well. You can now view your jobs by day, week or month and you can add more details to the job, even after it has been completed.
You can also add attachments to your jobs once they have been created, allowing you to send detailed drawings, contracts or information to your engineers in the field.
As always let us know what you think and what you want to see in future versions
Previous updates
AutoAlert Monitor V9.3
If you're an administrator, you can now view all jobs or just your own jobs.
We've made it easier to get to your settings from the radar, jobs and messaging screens.
You can now attach documents from iCloud to your job sheets. Ideal if you want to add complex documents to a job or fill in details where you may not have a good network connection.
Its even easier to add connections including additional employees, customers or subcontractors.
We've fixed a few bugs and made more improvements to the look and feel of the app.
We've made it easier to find your vehicle or engineer from the radar screen. (especially if you have a lot of devices or engineers)
AutoAlert Monitor V9.2
A small update which fixes an issue when you looked at health and safety issues for a job as well as improvements to consistency throughout the app.
AutoAlert Monitor V9.1
Some small improvements to the look and feel across different devices, especially when you have a lot of jobs
Fixed a bug when allocated jobs using the standard plumbing job template
You can now turn tracking on or off from the jobs screen as well as the radar screen and messaging screen,
Settings are now also available from the messaging screen
We've made some improvements to the sign up process, especially when you add spaces or strange characters by mistake in your contact details
AutoAlert Monitor V9
The ability to easily log into your web dashboard on your iPad from within the app
You can now view and add notes for a customer
Create reminders for a job
You can now add a job directly from a customers profile or select a customer when adding a job
We've reduced the size of the app and made some small improvements to the look and feel including on the iPhone 6+
AutoAlert Monitor V8.6
Different check sheets can now be assigned to different job types
Some small bug fixes and enhancements
AutoAlert Monitor V8.4
You can now sign your job sheets
You can attach photos to your job sheets
Some small bug fixes
AutoAlert Monitor V8.3
See where you're vehicles are
Update your jobs on site
Reduce your paperwork
Improve communications
Cut costs
AutoAlert Monitor V8.2
We've added additional help and support within the app to make it easier to understand how to change job types or send alerts when a job has been added.
Fixed a bug which showed up in areas of poor signal.
Improved the flow of the app on certain screens when adding or editing job data.
Corrected a spelling mistake.
AutoAlert Monitor V8.1
Some small bug fixes.
AutoAlert Monitor V8
Quite a large update behind the scenes with big improvements to performance and reliability, especially in areas of poor network coverage.
The only new feature within the app is the ability to long press from the jobs screen to turn on the torch. Ideal if you're working on an electrical job with no electricity.
AutoAlert Monitor V7
Updates for this version include:
It's now even easier to add jobs for you or your colleagues from your iPhone or iPad
We've fixed a small bug which would cause the app to crash if you did not have location services enabled
We've also continue to improve the performance and stability of the app.
AutoAlert Monitor V6.9
Updates for this version include:
Your last job view is automatically saved to reduce the number of clicks to get to your jobs
You can now turn screens on and off from the web portal
Long click on the radar screen will bring up the tracking button, making it more easy to turn tracking on or off.
AutoAlert Monitor V6.8
Quite a large update with a number of performance and reliability improvements as well as improvements to the look and feel of the app, in particular around the job functionality.
You can now select:
Jobs for today, tomorrow or view all jobs
Additional job information is now also available
AutoAlert Monitor V6.7
A couple of small bug fixes when adding jobs and changing the map style in the radar screen
Some small enhancements to the look and feel for the app.
It's now easier to send your location and change your location settings
AutoAlert Monitor V6.6
Using messages have been improved further to aide communication with the rest of your company
Enhancements to the radar screen, including the addition of street view so you can better understand where your vehicles are. You can also view your vehicles locations on a standard, hybrid or satellite map. See our support page for more information.
We've added more support if you've lost or forgotten your password
It's now easier to connect GPS Tracking devices or other phones from the radar screen.
AutoAlert Monitor V6.5
Improved the performance of the messages screen including a fix for an issue where the orange dot was not showing on some unread messages
Other bug fixes and performance improvements
Updated the app to provide support for 64 bit processing
Fixed an issue where your contact details weren't shown properly if the profile was too long
Improved the log in process in poor network conditions
Removed annoying popups when there is no internet connection. The notification has been replaced with a small icon at the bottom of the screen which you can press to refresh
We've made it easier to see which device is your from the radar screen
You can now also get directions from your vehicle to another location
AutoAlert Monitor V6.4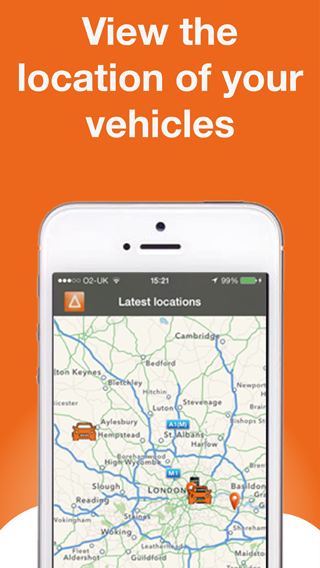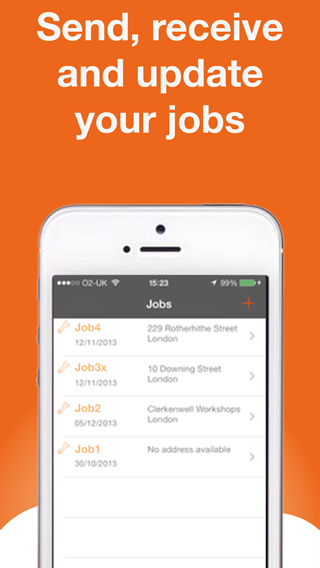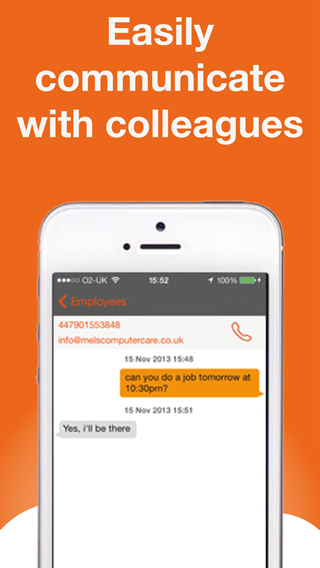 We've re-worked messaging to make it more intuitive. You can now see your latest messages, including linking to the messages from the push notifications
Messages are updated as read when you view them from your iPhone, iPad, Desktop or mobile
Messages can be sent or viewed from the desktop
Messages now automatically scroll to the bottom so you can see the latest message received
You can more easily email or call your colleagues as well as send them messages
We've made it easier to search for your connections
We've made it easier to select and view your vehicles in the radar screen
Other small design flourishes
A few more bugs killed
AutoAlert Monitor V6.2
Added the time the location was sent for each device
Fixed an issue with the start/stop tracking button which sometimes means you had to press it twice to turn tracking on or off.
Also fixed an issue with the tracking menu not being shown on the iPad
Added an option to the tracking settings screen which allows you to disable screen locking so you can keep monitoring your vehicle's locations
If music was playing before the app was started, music now resumes once the app has loaded
Improved reliability and notifications when no, or poor, network connectivity is available
Continued streamlining of the code to reduce bugs, increase performance and save your memory.
Find out more about AutoAlert Monitor and how you can use it to monitor the location of your vehicles, track your jobs and communicate with your colleagues.
A lot of customers use AutoAlert Job Management as it helps them cut the number of missed or disputed invoices.
Disputes often arose when a customer thought an engineer was on site for less time than quoted. As engineers would often fill out all their job sheets at the end of the week, it's understandable that on some occasions the exact times they entered or left site could be forgotten.
AutoAlert job management not only makes it easier for your engineers to update their jobs on site with the click of a button, you can also view an audit trail showing the exact time and location when a job was updated.
Following is a quick guide of how to enable and view audit trails.
Saving locations and timestamps when jobs are updated
To save the location and timestamp for your engineers when they update a job, click on the connections icon (

) at the top right of the screen. Then
Select View Connections
Select Employees
Click on the name of the employee who you want to provide location and timestamps
Scroll to the bottom of the page and click on Employee settings
Ensure the Save location and timestamp when job is updated check box is ticked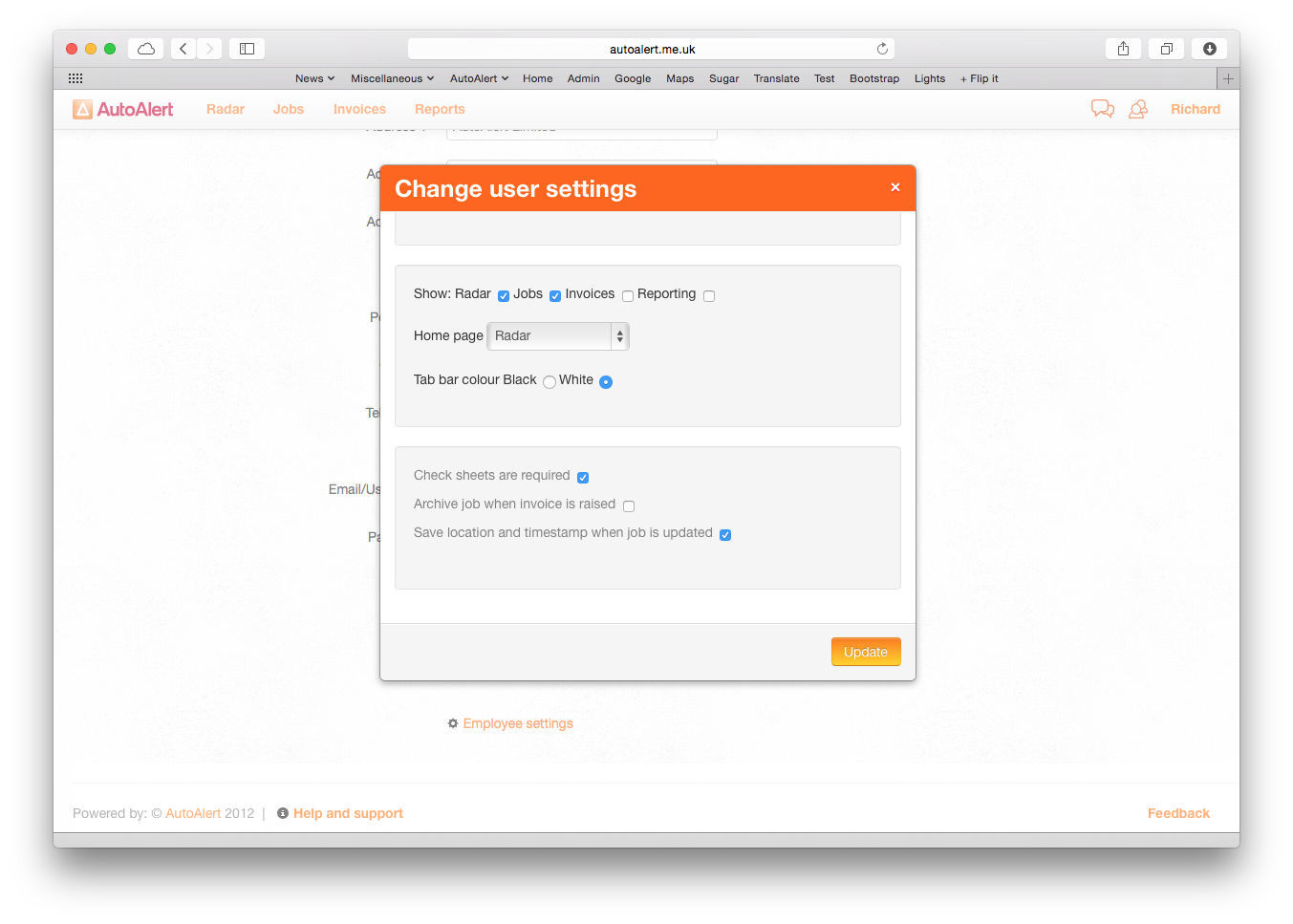 View your job management change log
To view the time and locations for each update to your job. Simply
Click on the More details icon (
Click View/Edit/Update job
Scroll to the bottom of the job details page
Click View change log
The following window will be shown displaying each action for the job and the time and location the action was performed.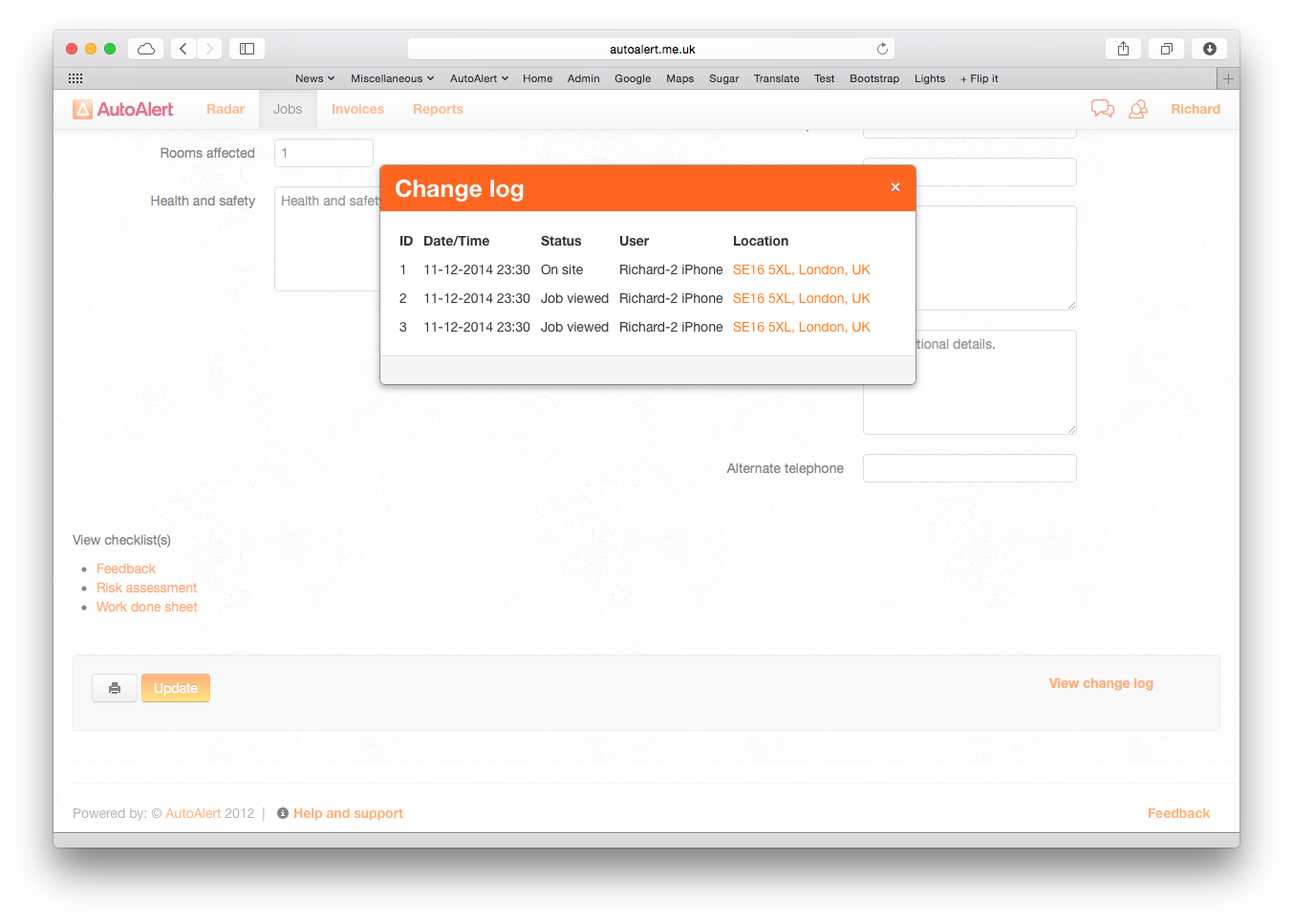 You can click on the location to view it in Google Maps.
Conclusion: No more disputed invoices
With an audit trail for each job, you can have more confidence that the times you have quoted on your invoices are correct. There's no more risk that the time has been overestimated because your engineer hasn't filled in their job sheet until hours later when they're at home.
Using AutoAlert's iPhone or Smartphone app is also easier for your engineers. With one click to update a job there's less administration for them and no reason to find downtime in their week to update all their job sheets.
Alternate ways to see when an engineer has entered or left site
With AutoAlert GPS Tracking, you can also see various reports such as the stationary times report and driving times report which show the start and stop time and location for your vehicles and engineers.
You can also set up virtual areas and get alerts around your customers' location and then get alerts when one of your engineers enters or leaves that area. This is also useful to help with your duty of care towards your remote workers.
For more information see:
Or find out about AutoAlert's job management software and how it can cut your paperwork.
This guide is designed to help you dive into the power of AutoAlert and get the most from AutoAlert's award winning system: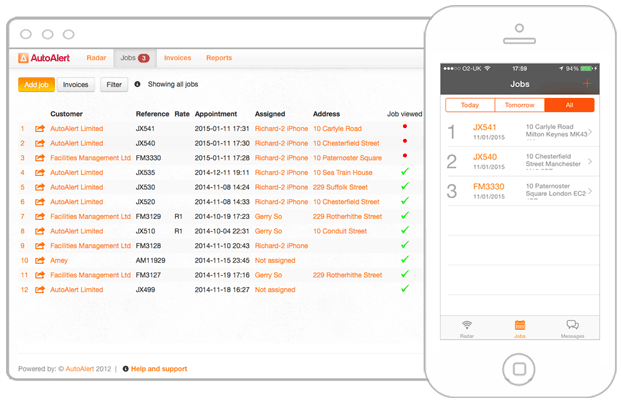 What is AutoAlert anyway?
AutoAlert is a simple system which helps you see what's going on in your business from tracking your vehicles, viewing the latest status of your jobs and keeping in touch with colleagues, customers and suppliers.
How is it useful?
AutoAlert provides the information you need about your business right at your fingertips. No more ringing around trying to find out where someone is or the status of a job.
You can connect to customers and partners and share information with them, allocate jobs to each other and share their status in real time.
AutoAlert also provides simple alerts and messaging to highlight issues and ensure transparent communication.
How to start using AutoAlert:
1. Firstly, create an account from the website or by downloading AutoAlert Monitor from the iTunes app store.
You can then add trackers, add employees and connect to customers and suppliers.
As you add connections, the value of the system increases as you can share jobs, messages and locations saving you and your partners time trying to find out what's going on.
2. CONNECT DEVICES: get locations
Download AutoAlert Monitor, put a portable unit in a vehicle or install our trackers and start getting the location of your vehicles in real time.
3. ADD CONTACTS: allocate jobs
Invite your employees, customers and suppliers to join you then start receiving and allocating jobs. You can also communicate with each other easily from your desktop or mobile, or from your iPhone or iPad using the AutoAlert Monitor application.
4. ADD JOBS: monitor your jobs
Start adding jobs to the system then update and monitor them in real time.
If you have employees and suppliers, you can allocate jobs to them and get alerted if the job is not viewed or the engineer is not on site.
&nbsp
For more help and support, check out our Support Centre.