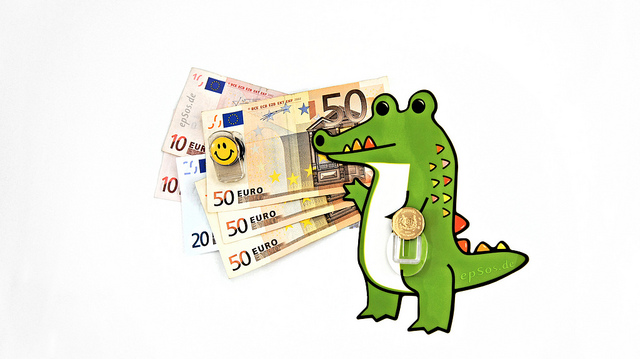 As the owner of a busy electrical contracting business, getting paid on time is nearly always the biggest bug bear. Late payments, or worse, missing payments can have serious consequences on cash flow, and has even been responsible for the demise of small businesses.
The problem
When we speak to electrical contractors, about the challenges of running a business, eliminating or reducing the paperwork is on the wish list of every business owner. In fact, the paperwork can be such a challenge that any non-essential paperwork can quickly become lost or passed around from pillar to post in the hope that someone will deal with it.
The issuing of invoices is one such problem. Electricians are telling us that invoice problems range from no sending one at all (no invoice, no payment!) to not chasing up late payers and having no system in place to make sure payments are received on time.
The Solution
Cut out some of the paperwork, cut your printing and postage costs and send your invoices electronically. A system that works well in the electrical industry is to send the invoice to the customer upon completion of the job. It takes just a few clicks of a button to email the invoice straight to the customer before driving away from the job. This ensures that invoices are sent on time and is not down to one person to find time every month to send each and every invoice manually.
When managing a remote workforce it is important that an effective invoicing software program is in use to make sure employees actually use it – the two basic functions will be usability and speed.
What to look for in invoicing software
A simple reliable system that is easy to use is vital. It needs to be easily accessible by all your employees so that they actually use it. Never be tempted into free downloads. Not only are these rarely updated, but they can be full of bugs and errors and can actually cause more harm than good.
You need to make sure the software that you chose to use is supported and does what you need it to do without any costly useless features. Look out for:
A Customer database – so you can easily find customer details – no more searching for email addresses on scraps of paper!

Autofill features – sending documents should be possible in a few clicks

Integration with an accounting platform – to save time on HMRC returns

Alerts to flag late payers so that the appropriate chase up methods can be deployed.
Streamlining your invoicing function makes sense and will save hours of manually completing book-keeping statements.
Above everything else it will save you money and improve workforce management.
Like this blog content and want to hear more from us? Be awesome and sign up!
Or connect with us on Twitter @autoalert
George Osborne has unveiled his budget today with one of his key initiatives being an increase in productivity for UK businesses.
Great Britain has a woeful record on productivity with statistics showing UK workers producing a lot less per hour than workers in many other industrialised economies. This doesn't bode well as economic growth is heavily determined by productivity, even more so when we have a stable and/or ageing workforce.
But economists have been scratching their heads as the link between economic growth and productivity appears to be somewhat broken. The UK economy has performed relatively well compared to many other industrialised countries whilst our productivity growth has been lower.
No-one quite understands what's going on. Some say it's because the way we measure productivity is either wrong or incomplete whilst other point to the structure of the UK economy which is more heavily biased towards services.
In the UK, we have a lot more electricians, plumbers, hairdressers and consultants than say Germany which is more heavily skewed towards manufacturing.
Productivity in the Service Sector
Unfortunately, it is often more difficult to increase productivity in the service sector. Unlike in manufacturing organisations where you can buy the latest machine for your production line and watch the output per worker increase, in the service sector it is not as easy for a hairdresser to increase the number of haircuts s(he) provides, no matter how sharp her scissors.
George Osborne, the British chancellor promised to unveil a plan designed to "make Britain work better" in his Budget on 8 July. But what can really be done.
We have conducted research with a lot of our customers who work in the service sector. They range from electricians and plumbers through to security companies. The conclusions we drew was that productivity can be increased substantially, even in these industries.
In many of these industries there is still a heavy reliance on paper for job sheets, work sheets or delivery notes. Filling out these paper forms is very inefficient and time-consuming with paperwork alone often taking up at least a couple of hours for each engineer and even more for the boss of the company.
With the average time spent on a job being around an hour, spending 2 hours on paperwork means 2 jobs lost which not only costs the company money, it ultimately affects the UK's productivity statistics.
A heavy reliance on paper often results in engineers having to come to the office to pick up their jobs each day and then bring their job sheets back at the end of the day or week. Again this means time wasted when an engineer could be working and higher costs for items such as fuel.
Using paper job sheets often also leads to missing invoices or disputes when an invoice is simply forgotten or the customer queries the amount on the invoice. This takes up time which could be better served in growing the company and leads to lost work and lost productivity.
But what can be done?
"There are jobs that organisations are unable to automate," says Prof Peter Fleming at Cass Business School of City University London. Jobs like flipping burgers and driving buses which though necessary are low skilled and low paid and don't add much to the overall economic output.
But Prof Fleming also sees other factors at play. He says Britain's workforce has been "neglected in terms of pay and conditions."
Wages have stagnated for the past few decades and an increasing number of people are working on "zero hour contracts" where staff is hired with no guarantee of work and uncertain pay. Prof Fleming argues that this has demoralised the workforce, depriving them of incentives to work better or harder.
But there is hope. Technology is having a huge impact on the way many people work and the impact is starting to be felt in the construction, electrical contracting and plumbing sectors.
Cloud based software means that information can be shared more easily and be instantly accessible wherever your workers are. The latest job management software in particular can eradicate paper based job sheets, sending information to the engineers mobile telephone and updating the office as soon as the job is complete.
This leads to less administration, fewer mistakes and higher productivity.
When it comes to productivity, making sure your staff have the right training is also key, says Pizza Express boss Richard Hodgson "It's a very difficult time to be an average worker," he says. In the UK "we have seen the proliferation of any type of work – work that doesn't add anything to the economy – just to get people off the unemployment list."
Find out more
Interested in finding out more, leave us your email and we'll keep you up to date with our latest thought pieces.
Or get in touch on twitter.
Job management is now handled by the Okappy Market Network and its job management software. With Okappy Job Management, it's easy to see what is happening with all your jobs.
You can quickly focus on the exception rather than having to worry about the status of all your jobs. Any job which is running late will be automatically flagged up.
But what if you're the engineer who is actually doing the job, and you would like to set a quick reminder.
Setting reminders is also very simple to do. Check out the steps below to quickly create a reminder for your job.
Creating reminders
To create a reminder when you're in a job, simply click the plus button at the top right of the screen to show the Create reminder pop up box.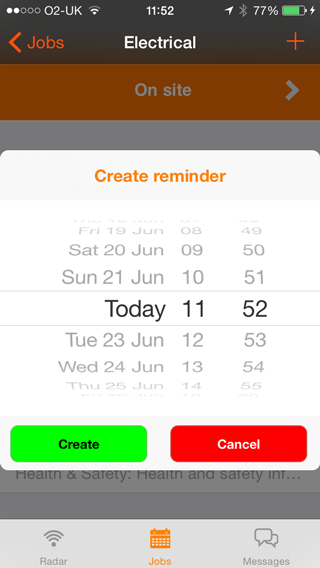 Once you have selected the date and time of the reminder and clicked Create, the reminder will be created with the job description automatically populated.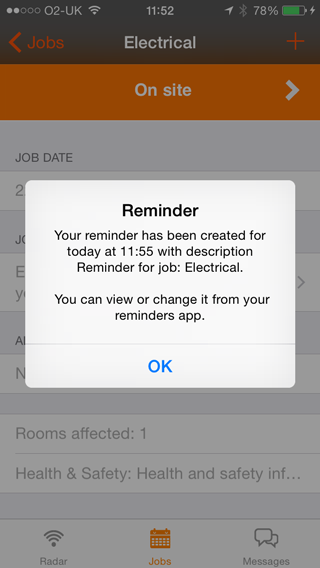 You can easily open your iOS reminders app by clicking on the AutoAlert icon on the top left of your jobs screen and then clicking View reminders.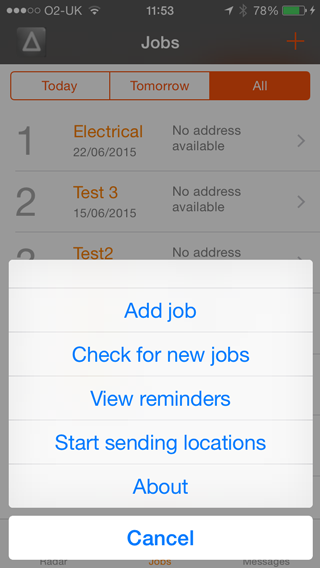 You can see all your reminders.
At the designated time, the notification will pop up on your iPhone, iPad or Mac.
Find out more about Okappy Job Management and how it can benefit your business.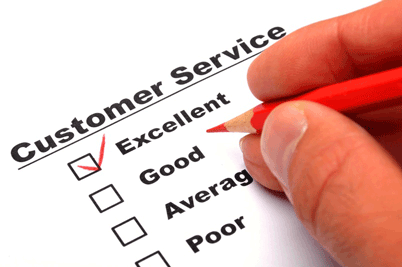 An electrician often needs to be available for their customers immediately, especially in cases of emergency while still providing high levels of service. To achieve this, especially its worth knowing how you've performed.
Providing a platform for customers to send in their comments and suggestions, as well any grievances can lead to increased trust as well as highlighting areas for improvement. There are many ways to get customer feedback, following are some of our suggestions.
Emails to your customers
Sending emails to the customers after performing a task for them can be helpful to find out how satisfied the customer is with the service. To encourage the customers to respond to these emails, a small incentives could be provided such as a discount on the next job done.
Questionnaires
Questionnaires are an effective method of gauging customer satisfaction with your job management. They are especially helpful if added to your website. Then the data can be easily compiled and analysed with the help of analytical tools.
You could also use dedicated services such as SurveyMonkey or Google Consumer Surveys. These can be set up quickly and at little or no cost.
Comment boxes
While electricians don't have visiting customers and hence lose out on setting up comment boxes in the workplace, this method can still be applied online. Leave a space on the website for customers to leave whatever comments they wish. This can only help in gaining further knowledge about customer perception of the company.
Social media
No business can work these days without an online presence such as on Facebook and Twitter. You can set up accounts on these social media sites and interact directly with your customers. This is helpful in communicating with the customers where small doubts or questions can be resolved within a matter of minutes without much effort.
Focus groups
No matter the size of your electrical contracting business, you could always invite a few regular customers to join you for a chat over a cup of coffee. This is a good opportunity to inform the favoured customers about new products or services you may be offering. It also works well for obtaining customer feedback on the general service level of the electrician and the company.
Job Management Software
Job management applications like Okappy Job Sheets allow you to set up check sheets which could include a customer feedback form at the end of each job. By ensuring a questionnaire is provided automatically after each job, you can build the collecting of customer feedback into your standard business processes.
Find out more about Okappy's job sheet software.
Round up
Obtaining customer feedback is not only useful to you, but it provides a good impression to your customers. Even if the feedback is bad, this provides ways you can improve and could actually improve the relationship with your customer if you demonstrate your respect for your customers feedback and make an improvement.
Some of the suggestions above may only be done once or twice, while others its best to keep doing on a regular basis. The more ingrained getting customer feedback is into the culture of your company, and the more consistently you collect feedback then the more consistent the data you have to really make improvements. This will also likely feed down to your own employees, engineers and subcontractors helping ensure they maintain high levels of customer service.
Find out more about Okappy Job Management software and check out how electricians, plumbers, facilities managers and more are reducing paperwork by automating their job sheets.