Show or hide your vehicles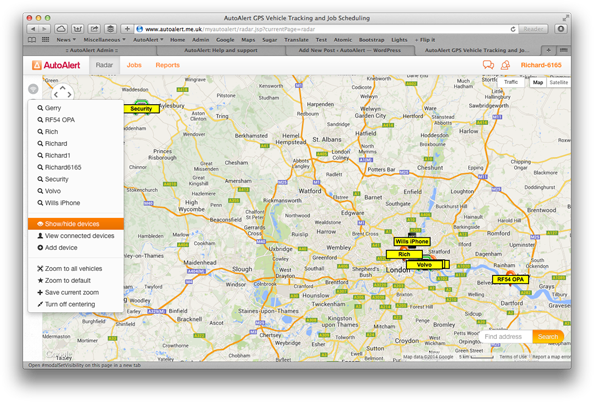 AutoAlert GPS Tracking allows you to show or hide your vehicles on the main radar screen and within the iPhone monitor app.
As the radar screen automatically optimizes the zoom level to make sure all your vehicles are in view, hiding those vehicles which you don't want to track means its easier to see what your other vehicles are doing.
Your vehicle may not be working, your GPS tracking device may be switched off or it might be spare. Therefore being able to hide that vehicle or GPS device is important so that you don't clutter up your screen. This is especially relevant when you have a lot of vehicles which you are tracking.
How to show or hide your vehicle from the radar screen
To hide one of your vehicles, simply complete the following steps when logged into the AutoAlert website:
Go to the radar screen
Click the devices icon ()
Click Show/Hide devices (see screenshot above)
Click the check box next to the relevant vehicle or GPS Tracking device to either show it or hide it from the radar screen
Click update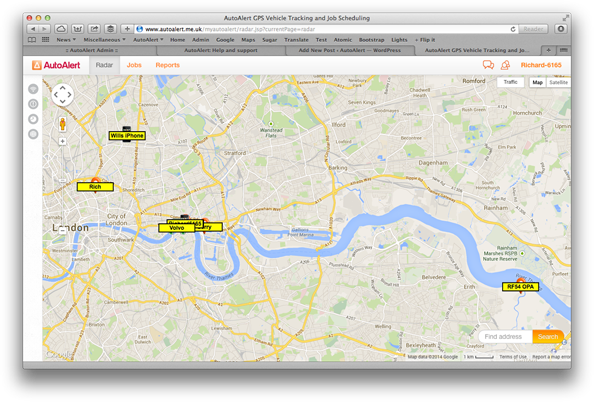 Result: The relevant vehicle will be either shown or hidden from view. In this case, the vehicle marked Security was originally shown but was then hidden. This meant that the radar screen automatically zoomed to the remaining vehicles.
Note: Showing or hiding your vehicles will also affect their visibility when logged in to the mobile version of the site or when checking your vehicles location on the AutoAlert Monitor iPhone app. If you're sharing your vehicles locations with your connections, then hiding the vehicle on your screen will also hide the vehicle for your connection.