AutoAlert submitted an application for the EIR ICT Labs Challenge. Following is the detail of our application.
Summary of our ideas
Millions of paper jobs sheets are produced each day. They are inefficient, involve a lot of manual intervention, often lead to duplication and ensure no one knows what's going on with their job until the job sheet is returned. Its our mission to eradicate paper based job sheets!
AutoAlert's solution in more detail
Job sheets, works orders, delivery notes or their equivalent are used for millions of jobs each day in multiple different industries ranging from electricians and plumbers to haulage contractors. They are paper based, inefficient requiring lots of manual intervention and duplication and lead to a lot of extra cost.
As no one knows the status of the job until the job sheet is returned, this leads to chasing of staff, anxiety and late invoices as your invoices can't be raised until the details of the work done is returned.
Our aim is to eradicate the job sheet and replace it with a cloud based, connected platform where customers and subcontractors can connect to each other, send and receive jobs and update those jobs in real-time as they happen on a mobile telephone.
Instant messaging and GPS tracking further enhances transparency, they allow you to see where your customers and engineers are and easily communicate via your desktop, mobile telephone or tablet.
Our platform uses cloud, web and mobile phone technologies.
Our market
The market:
We are primarily targeting service based companies with remote workers i.e., electricians, plumbers, construction companies, facilities managers or transport companies. Our job scheduling solution is especially useful to companies who are big enough that they have large customers, may use subcontractors and have ambitions to grow further, but who are not so big that they can afford to invest a lot of time and money into more complex and bespoke systems.
The electricians market alone comprises of about 30,000 companies in the UK producing an average of 30,000,000 jobs per year. The plumbing market is of a similar size.
Competition:
Competitors include Primavera, SAP and Oracle. However, these systems are typically complex and expensive and out of the reach of most smaller businesses.
Newer incumbents to the market include vWorkApp and Geop. They utilise smart phones to provide job information and tracking. They are typically easier to use and available for much smaller companies.
However, what differentiates AutoAlert from the competition is the networked aspect of our system. Unlike our competitors, our platform allows our customers to connect to their own customers and suppliers. This means that customers don't need to pay for different systems and then log in and out of each while working for different companies.
With AutoAlert you can receive and update jobs from your customer as well as send your own jobs to your subcontractors.
Legal obligations:
Although there are no legal obligations to AutoAlert in particular, our customers have a duty of care over their own employees and it is therefore important that our applications are simple to use with information that is easy to see and with buttons that are easy to press, This helps reduce distractions and ensures our users can concentrate on their other tasks.
Many of our customers have employees that drive and this is therefore also something we need to consider.
We are currently developing our software to determine when our a phone is being used by someone who is driving and only show messages with a minimum of text, large fonts and requiring no interaction from the driver. Other more detailed job information will only be available once the vehicle has stopped.
Our business model
We primarily derive our revenues from our monthly subscriptions which are charged on a per user basis and allow access to the platform. We have three subscription options:
Free – this allows you to sign up to the platform, connect to your customers and suppliers, receive and update jobs and use instant communication between your contacts.
Standard – allowing you to add your own jobs and raise your own invoices on completion of a job
Advanced – allowing you to monitor your vehicles or engineers using a GPS tracking device.
Find out more
Find out more about AutoAlert's innovative software and how it can benefit you.
The Digital Champion awards highlight digital businessess who are changing their markets; and creating new markets through the application of digital technology.
Digital technology will underpin Britain's economic recovery, enabling UK businesses to unlock new markets, raise productivity and improve operating practices.
The "Digital Champion" award recognises UK-registered businesses that are challenging traditional industry and business practices; building a successful business on the back of such disruptive activity; and acting as a champion for the new digital economy.
AutoAlert's digital approach to job management is creating a disruptive influence to all those industries which use remote workers including electrician and plumbers, security companies, transport and logistics and facilities managers.
Why AutoAlert is a digital champion
AutoAlert's mission is to eradicate paper based job sheets.
Millions of jobs sheets are created each day to provide job details to remote workers such as electricians and plumbers and to get information back about the work they've done on each job.
Unfortunately the process is labour intensive, involves lots of duplication, especially as more subcontractors are involved in the job and is opaque with no one knowing what is happening with each job until the job sheet is returned – often weeks later.
AutoAlert's solution is a "social network for blue collar workers" which allows companies to connect to each other, send and receive jobs, then monitor and share the status of their jobs as they're updated in the field by the engineer on their mobile phone.
AutoAlert provides clarity over what is happening as it happens, this leads to less anxiety, less chasing employees and more time for other tasks.
We are small in size but big in ambition. We have almost 20,000 customers using our platform but believe we can get millions due to the massive value our customers derive in connecting to their own customers and suppliers and being able to share the status of their jobs.
How do we help make our users more agile and responsive
Paper based job sheets are wasteful and inefficient. No one knows what is happening with a job until the job sheet is returned.
By automating the process and by allowing engineers to update the job sheet on their mobile phone when they're doing the job rather than filling out job sheets at the end of the day, or week this means everyone is aware what is happening as it happens.
This means no waiting around for job sheets, no difficult to read or missing information and no chasing remote workers by telephone.
Job details can be updated in the office or on site. The information is immediately available to all concerned ensuring customers, suppliers and engineers can respond immediately to any changes.
As the list of jobs is available on your mobile telephone, you can see any new jobs that have arrived and add them into your working day rather than having to come back to the office to pick up additional jobs.
If a job is not viewed, or if there is any delay, then alerts are generated to all concerned so any issues can be resolved or the job reallocated to another engineer.
How is the mobile web integrated within our business
Mobile telephones and the mobile web are an integral part of our "blue collar social network". In the past, remote workers got information about their jobs on a piece of paper. A form was then completed once the job was done and taken back to the office often the next day or even a week or so later.
Handwritten information is often difficult to read and information may be missing. If the job sheets are returned days or even weeks later then this can lead to additional problems and disputes when raising invoices. Unfortunately, by this time the information is no longer fresh in everyones mind.
By using a mobile telephone to update the job details, the engineer gets the information in real time with text or push notifications when a new job has arrived. They can update the job while they are on site and while the information is still fresh in their minds meaning less errors, less chasing and quicker and more accurate invoicing.
What makes us different
Other companies are now using mobile telephones to provide a more simple, real time way of updating job sheets. They work well for individual companies but fall down when more than one company is involved in the job.
With AutoAlert, we've learnt from leading social networking companies such as Dropbox, Twitter and Facebook and have developed a connected system that works right the way along the supply chain, no matter how many companies are involved in each job.
We continue to learn and innovate, we speak to our customers regularly and spend time with them to understand how they are using our platform, how we can make it easier to use and how we can improve their lives. We also get thoughts and inspiration from other successful companies whether they're working in related fields or in completely separate areas.
In terms of entrepreneurialiasm, i believe one key trait stands out – determination. We've faced many ups and downs, we've changed and improved our strategy and have now got to a stage where we have almost 20,000 customers using our platform with ambitions for millions more.
How have we brought our solution to market
We have been working with a number of key customers since 2009. They were using our GPS tracking technology to help manage their vehicles and engineers. However, they wanted to expand, they were getting interest from large national companies but were concerned that they wouldn't have the time and resources to manage the subcontractors that would be required to take on these new contracts.
Consequently we worked together to develop our job management software in order that they could better manage their jobs and workers.
Indicators of success
We now have over 18,000 customers using our system. We have processed over 4,000 jobs with a value of approximately £1 million.
We have eradicated about 5,000 paper based job sheets and 15,000 telephone calls.
We have also allowed our customers to expand and take on more business. We estimate our customers have saved about £160,000 in costs by being able to reduce duplication, paperwork and calls to field workers to find out where they are.
Our commitment to digital innovation
At AutoAlert we're keenly aware of the need for innovation. Both to set us apart from the competition and also to improve our own customerss working lives. We want to be special and we want to give our customers the tools so that they can be special too.
We have won a number of awards including Best Aftermarket product for the Telematics Industry – where we were competing with large multinationals including GM Motors.
Find out more about how AutoAlert job management software can benefit your business.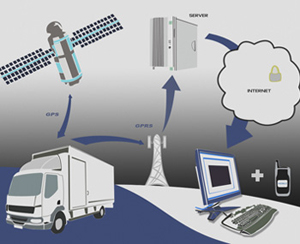 Is a vehicle tracking unit really going to make your life easier and is it worth the cost? I guess this is a bit like they once said, 'is a mobile phone really worth it, a PC, or television? Like any invention it's bound to be met with suspicion, caution or a groan. Yet once the huge gains in buying a particular device are experienced it's almost impossible to do without. So how can a GPS tracking unit help you? Well, if you run a fleet of vehicles or regularly travel and especially to remote areas, it might just save you thousands of pounds or perhaps your life. Today, with advanced technology, tracking units are inexpensive and easy to use. A device that can help you monitor, protect and use your vehicles more efficiently sounds ideal for fleet managers.
1) Getting back on track
Running a fleet usually means constant checking on drivers, deliveries, customers, suppliers, invoicing. Phone calls become irritating, asking where a driver is, why they're not at the next job, what time they're going to get there, reassuring a customer, explaining to a supplier. With a GPS unit, you can see current driver location, local traffic conditions, send and receive alerts and keep real time checks on relevant data.
2) Calling all customers
Customers want information and they want it fast. Being able to communicate easily and efficiently not only shows professionalism, it eases tension and makes the job so much easier. Not only that, if the customer is already confident in your abilities before your driver has even arrived at the job, so much the better.
3) At a safe distance
If one of your drivers is in difficulty, you can be alerted and take immediate action. In fog, snow and ice or with accidents and delays, it's good to know there's someone at your side. It's a comfortable feeling too, that thieves are likely to think twice if they know a vehicle is being monitored before attempting to break in.
4) Business growth
A tracking unit can lead to improved performance, more efficient operations and is likely to significantly reduce costs. Channeling funds into investment in order to grow your business rather than risk cutbacks is far more worthwhile.
5) Cost of administration
With up to the minute working time reports, instant invoicing, you will have far less reliance on job or overtime sheets and general paperwork. Being less office bound means being out and about on the field, not stuck behind a heap of routine admin.
6) Fuelled by expensive waste
Fuel consumption is a major expense for many businesses and especially for fleet owners. Improved scheduling and use of vehicles helps reduce mileage, fuel can be used more efficiently, idling and braking times cut, reducing harmful exhaust emissions.
So, I would say a vehicle tracking unit is a techie invention certainly worth considering. For smaller fleets, handy no installation required portable units are available and you can even use a mobile or iPhone.
Be great to hear your tracking unit news and views, I'm Richard, ready to exchange ideas, give a few tips and hear your problems.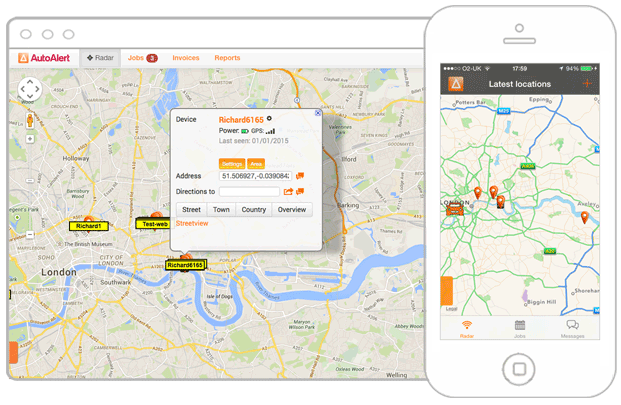 Following conversations with our customers, we found the following ten reasons are those most likely sited for using GPS vehicle tracking technology.
Customer Service
Customer service was cited as a key requirement. By knowing where all your vehicles are, if a customer rings you can immediately tell them what is happening and when to expect a delivery without having to ring the driver, find out where they are and then ring the customer back.
Reduce costs
By monitoring mileage, routes taken, idling times, or just through better scheduling of drivers, it is possible to make big savings in fuel costs – one of the largest costs for transport companies.
Environmental awareness
As above, reducing mileage also directly reduces harmful exhaust emissions. Furthermore, by having access to real-time data it is possible to watch trends and have key information at hand.
Reduced administration
Using the working time reports means less reliance on job sheets or overtime sheets. It's also a lot easier to see when a vehicle is used, for what purpose and why.
Improved working conditions
Putting the information in the fleet managers hands reduces the need to constantly ring the driver to see where they are. This is safer for the driver and reduces stressful situations often caused by poor communication.
Challenge parking tickets/speeding tickets or supplier fines
Time stamped satellite imagery and historical reports make it easy to prove where a vehicle was at a specific time or what speed it was doing. This could cut parking or speeding tickets or even fines from suppliers such as ports who often charge if a delivery is not made within a particular time frame.
Enhanced fleet performance
With less paperwork and key information readily available, it is easier to manage your fleet and spend time on the jobs that matter.
Security
You can see where your vehicles are always, set up alerts if they enter or leave particular areas and get text message alerts to potential problems.
Peace of mind
This is particular relevant to our motor home or classic car customers. With AutoAlert you check the position of your vehicles when you want and wherever you are through your mobile telephone rather than relying on a distant call centre which only tracks your vehicle after it has gone.
Job security
Improved performance, efficient operations and reduced costs allow for investment in new revenue generating areas.
Find out more about AutoAlert GPS Tracking software and how it can benefit your business.