Accepting an invitation to connect on AutoAlert
With AutoAlert, you can send an invitation to your customers and suppliers to connect to your account. Once connected, you can send, receive and update your jobs in real-time on your mobile telephone.
Your customers can add also jobs and allocate them to you. You can then updated those jobs on your mobile phone and let your customer know of their status in real-time rather than them having to chase you to find out what is happening.
Once you have completed a job, you can raise an invoice to your customer. They can see your invoice as soon as it's raised – no more invoices lost in the post!
In the same way, if you connect to your suppliers and subcontractors, then you can send them jobs and watch the status of the job as your supplier or subcontractor completes the job.
To connect to your customers or suppliers, simply send them an invite.
Accepting your invitation
If you're already logged into AutoAlert, you'll see an alert pop up letting you know that you have new connections that would like to connect. A connection request will also be sent to you by email.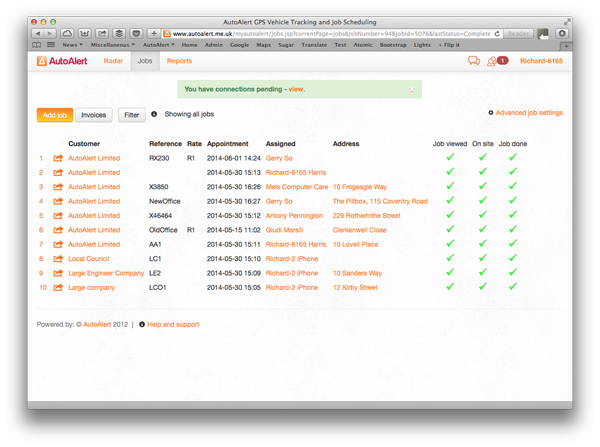 Simply click view to go to your connections page (or click the connections icon at the top of the screen –

)
From the connections page, you can view your employees, customers and suppliers including any that need authorisation.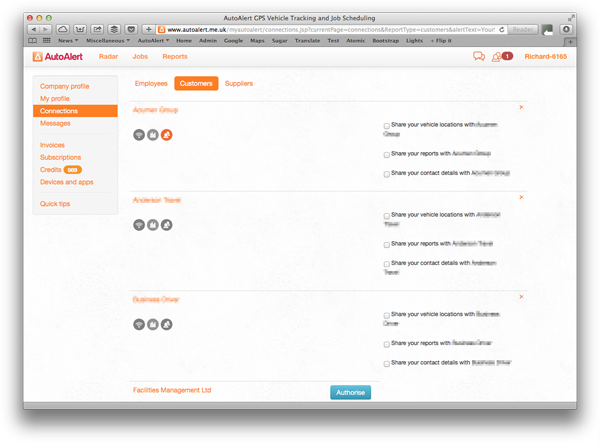 Simply authorise them to connect them to your account and start sharing jobs.
If you aren't on AutoAlert already, then you should receive an email invite with details. To accept the invitation press the Accept button.
If you're email doesn't allow you to press the button to connect to a website (maybe because of your security settings), then you can use the following address with your email and password:
http://www.autoalert.me.uk/accept-invitation