About the Malta CVA Congestion Zone.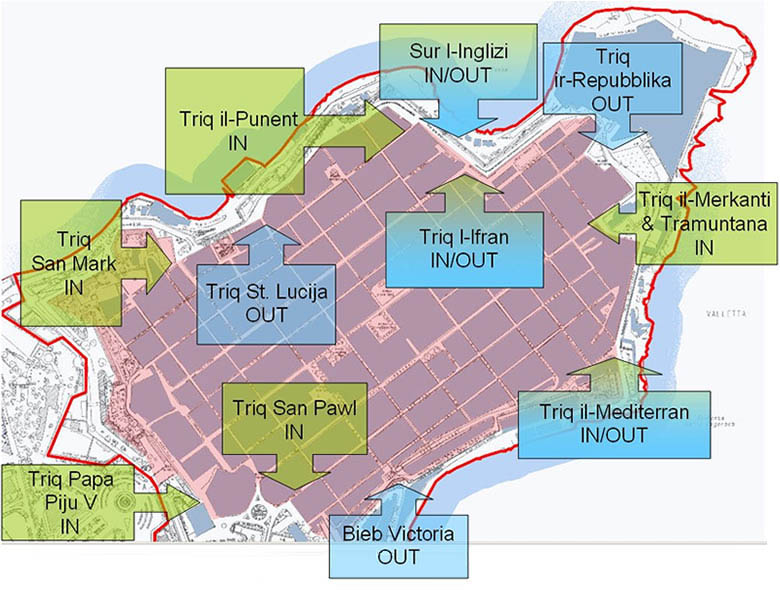 The Malta congestion charge is a fee for motorists entering Valletta. It was launched in May 2007 with the aim of increasing accessibility to the capital city.
The Controlled Vehicular Access (CVA) system uses number plate recognition technology along to monitor vehicles entering and exiting the zone. The system calculates the fee due depending on the amount of time within the zone.
Payment can be made by post, over the internet, by standing order or by mobile phone payment. Registration is required for certain payments.
Malta Congestion Charges
Between Monday 08:00 and 18:00 and Saturday 08:00 to 13:00 the charges are as follows:
First 30 minutes are free
Additional 30 minutes are charged at E0.82
Folllowing the first hour; E0.82 per hour or part thereof
The maximum charge is E6.52 and all other times including public holidays are free.
Congestion Charge Penalties
There are also incentives for early payment and penalties for late payment as follows:
Payment before invoice and automatic debit provides a 10% discount
Payment at invoice data is at full rate
Payment a month late will be charged an additional 2% orE5.82 whichever is higher
This increases by a further 2% if not paid within 2 months and 100% if not paid within 3 months.

Enter your details below to create your account.
No credit card required.
You can then purchase GPS tracking devices or connect your iPhone or iPad.
Alternatively, why not check out our help and support centre.
We're also available to take your calls on 0207 099 5698
Please enter your details in order to join this account
The administrator for your account will then need to authorise you
---